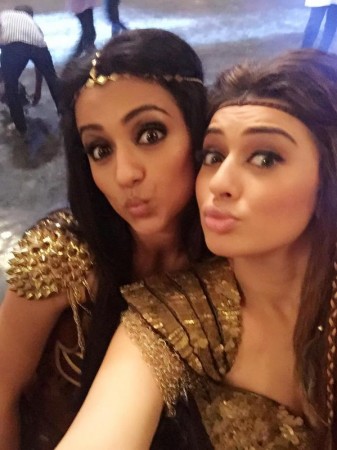 Actresses Trisha Krishnan and Hansika Motwani say they are enjoying sister romance on the sets of "Aranmanai 2" and Arya jovially describes their affair as the safest kind of love without any heartbreak.
Two popular actresses working together in a film often end up fighting with each other over equal screen presence in the movie. The filmmakers usually face a tough time in doing justice to them. Many in Kollywood were surprised when director Sundar C roped in Trisha and Hansika for his movie "Aranmanai 2", which is a sequel to his hit horror comedy film "Aranmanai".
Trisha and Hansika share a great camaraderie and they are often seen supporting and promoting each other social networking sites such as Twitter and Facebook. The actresses, who are now busy shooting for "Aranmanai 2", have great time on the sets of the movie. Their bonding has left others surprised on the sets.
On Sunday (21 June), both Trisha and Hansika shared some photos on their Twitter pages and these pictures featured their bonding on the sets of "Aranmanai 2". Besides posting the images, Hansika wrote, "No catfights here ... Just sister-romance #aranamani 2 ❤️@trishtrashers."
Trisha also spoke about her bonding with Hansika. She tweeted, "Moley workin her magic❤️Party wit d pei#Aranmanai2 Oh yes heroines can be friends@ihansika."
Moley workin her magic❤️Party wit d pei#Aranmanai2 Oh yes heroines can be friends@ihansika pic.twitter.com/SJJqUJnRf6

— Trisha Krishnan (@trishtrashers) June 20, 2015
Interestingly, both Trisha and Hansika recently announced their breakup with their respective boyfriends Varun Maniyan and Simbu. Arya, who shares a great bond with both the actresses, took a dig at their affair in a funny way.
@ihansika @trishtrashers congrats this is the safest love u both can have at the moment without any heart breaks but u never know — Arya (@arya_offl) June 21, 2015
However, both the actresses took it in a positive way, which shows a good relationship among the three stars. All of them went to share opinions and photos on the eve of International Yoga Day and Father's Day. Here are their Twitter posts.
I love yoga,I swear by yoga,its whats always worked for me more than any other form of fitness...OM #HappyYogaDay

— Trisha Krishnan (@trishtrashers) June 21, 2015
Happy Fathers Day❤️ pic.twitter.com/EyUeFmbDTu — Trisha Krishnan (@trishtrashers) June 21, 2015
Happy yoga day ! pic.twitter.com/A5IpZEosbb

— Hansika (@ihansika) June 21, 2015
Bak dhyanasan ..recently mastered this asana :) #yoga happy yoga day ! pic.twitter.com/hxzjS5FpXy — Hansika (@ihansika) June 21, 2015
Yoga day celebrations in PONDICHERRY this is apparently called the TASMic pose pic.twitter.com/f86XSfoCs2

— Arya (@arya_offl) June 21, 2015