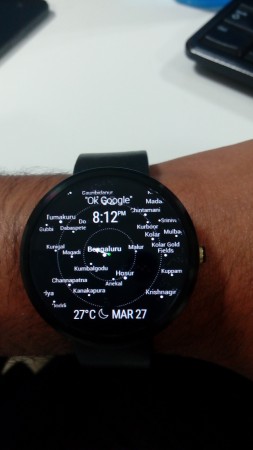 Travel website company Tripadvisor has announced to launch its app for the Android wear-based smartwatches. The free app, which is currently available on Google Play, helps travellers get reviews and ratings of hotels, restaurants and other spots.
"We're excited to make TripAdvisor available to even more smartwatch users through the launch of our new Android Wear app," said Adam Medros, senior vice president at TripAdvisor. "Our app gives smartwatch users convenient access to the wisdom of millions of travelers and helps them find hidden gems nearby – whether it's a great place to eat, stay or visit."
The app will display a list of top-rated "points of interest" based on the person's location (using GPS) along with ratings and review titles to help them pick a nearby restaurant, place of attraction and hotels. The smartwatch app will also show addresses, price range, hours of operation and distances of points of interest from the user.
It will also allow travellers to save their favourite restaurants, attractions and hotels and view them later on another Android device or TripAdvisor website and will also offer travellers to access the information on their Android devices more easily.
The TripAdvisor app is now available on Google Play worldwide. Check here.