India's strength lie in their batting, that much is cut and dry heading into the World Cup; and if their batsmen don't stand up to the test, then India might as well kiss their title defence goodbye.
The alarming – even if it is far from panic stations – trend of putting in poor batting displays in the tri-series continued, with the batsmen yet again failing to make that willow talk, and in the process as good as resigning themselves to defeat.
India headed into their match against England at the WACA in Perth knowing they needed a win to make it to the final against Australia, and what transpired in the first 48.1 overs was attritional batting and plenty of wickets, after the men in blue were put in by Eoin Morgan.
Shikhar Dhawan actually lasted more than a few overs for India in this match – a huge plus – but once the left-hander was dismissed by Chris Woakes in the first ball of the 21st over, that batting trajectory went downhill in a hurry, with India eventually ending up with not-going-to-be-enough 200 all out in 48.1 overs.
The reply from England was far from straightforward with the chasing side losing five wickets in a hurry, but then James Taylor (82, 122b, 4x4) and Jos Buttler eased those nerves with a brilliant partnership of 126 runs to take England to victory in 46.5 overs with three wickets to spare and put them in Sunday's final against Australia at the same ground.
There was plenty of drama in the chase, with England showing plenty of jitters en route to their target. Ian Bell (10, 13b, 2x4) was the main man with the bat the last time these two teams met 10 days ago in Brisbane, but the classy right-hander would not be allowed to make an impression this time out as Mohit Sharma (10-1-36-2) got him trapped in front, off a ball that just kept a tad low.
Moeen Ali (17, 34b, 1x4) scratched around for a while, but never looked his flowing self and there was no surprise when he gave his wicket away while looking for an expansive shot, with Akshar Patel (10-1-39-1), impressive again with the ball, picking up the wicket.
After Ali's wicket, in the space of 26 runs, India picked up three more as Stuart Binny came to the fore with the ball. Binny (8-0-33-3) first had Joe Root (3, 2b) driving straight back at him to complete a nice caught and bowled before Eoin Morgan (2, 13b) mistimed a drive to Shikhar Dhawan at mid-on.
Binny's brilliant six-over spell culminated with the wicket of Ravi Bopara (4, 6b), who floated a catch to Ravindra Jadeja off a ball that just bounced a little bit higher.
At 66 for five, England needed a partnership and that is precisely what came their way through Taylor and Buttler, who played a brilliant counter-attacking knock – notwithstanding a run out escape which would have seen him walk back quite early -- to take the game away from India.
The duo's century partnership ended India's hopes owing to their small total, and even if both of them fell late in the piece, it came too late for India to snatch a victory.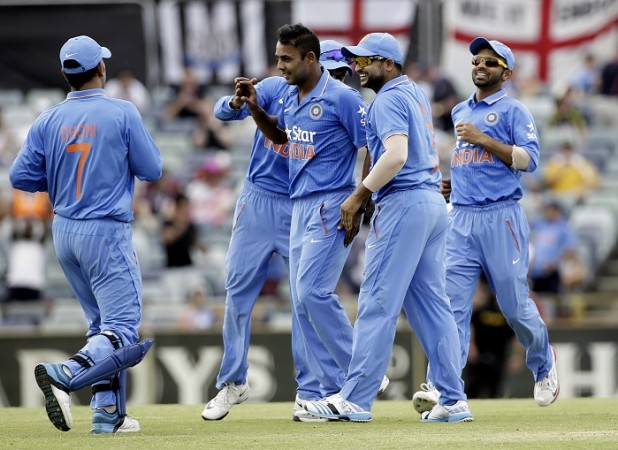 Earlier, Dhawan (38, 65b, 4x4) and Ajinkya Rahane (73, 101b, 3x4, 1x6) were the only two batsmen to score any kind of runs at the top, putting on a decent opening partnership on a Perth wicket, which typically had bounce and pace, before the cookie crumbled rather quickly.
It was far from pretty batting from Dhawan at the top, but at least he hung in there, with the only real good-looking shot coming from his blade via a typical left-hander's cover drive.
India's hoped were raised, though, with the opening partnership of 83, even if it took them 20 overs to get there, but once Dhawan bottom-edged one off Woakes (9.1-1-47-2) to wicketkeeper Jos Buttler, everything changed.
Virat Kohli came in at No.3, but not to great effect, as he fell for a 19-ball 8, with India's star man holing out at long-off off the bowling of Moeen Ali (10-0-35-2). Ali would then come back and haunt Suresh Raina (1, 5b) again, with the left-hander looking to take on the off-spinner one more time but failing miserably, skewing a catch to Woakes at backward point.
England kept picking up wickets in the middle overs as Ambati Rayudu (12, 17b, 1x4) came in and went back without adding too many runs, edging one to Buttler off Stuart Broad.
An over later, Rahane, who was holding one end up and needed to do it until the end, did exactly the same thing, this time off Steven Finn (10-0-36-3) to put India on 136 for five in the 36th over.
MS Dhoni and Stuart Binny attempted a recovery, but failed miserably as Binny (7, 12b, 1x4) threw his bat at a wide delivery from Finn and edged one to the slips with Ian Bell taking a one-handed stunner.
Nothing was going India's way, and it continued in that vein as Dhoni (17, 32b, 3x4), India's chief finisher, was trapped plumb in front by James Anderson (9-1-24-1), who had pegged him on the back foot with a ripper that took off from nowhere a couple of deliveries earlier.
Ravindra Jadeja (5, 9b) then got out after he thought he was playing in the IPL on sub-continent wickets, gifting a wicket to Broad (10-1-56-2) after coming down the wicket and looping the ball up.
Akshar Patel, who has looked like a fish out of water on these Aussie pitches, fell soon after as India folded rather tamely for the second straight time in this tri-series to England, with India only getting to 200 thanks to a bit of tonking from Mohammed Shami (25, 17b, 2x4, 1x6).
Fall of wickets: India: Dhawan (83/1, 20.1 overs), Kohli (103/2, 27.1), Raina (107/3, 29.2), Rayudu (134/4, 34.1), Rahane (136/5, 35.3), Binny (152/6, 39.2), Dhoni (164/7, 43), Jadeja (164/8, 43.2), Akshar (165/9, 44.2), Shami (200/10, 48.1).
England: Bell (14/1, 3.5 overs), Ali (40/2, 12.1), Root (44/3, 14), Morgan (54/4, 18), Bopara (66/5, 20), Taylor (191/6, 43.2), Buttler (193/7, 45.2).