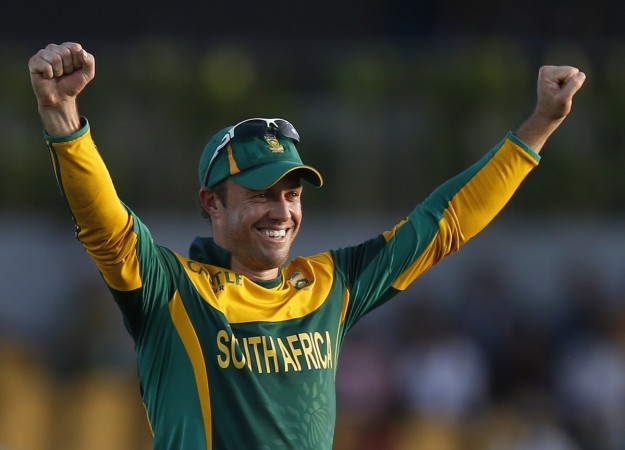 South Africa registered a crushing seven-wicket win over Australia as they chased down 328 in the second match of the tri-series in Harare on Wednesday.
Chasing down a score in excess of 300 was never going to be easy but the Proteas in the end won it at a canter, getting to the target in just 46.4 overs. Skipper AB de Villers and Faf du Plessis starred, as they both made hundreds to guide their team home against old foes Australia.
De Villiers and du Plessis put together 206 runs for the third wicket as they made 136 not out and 106 respectively. De Villiers had to even battle a hamstring trouble, but he stuck it out and saw his team through to victory. The South Africa skipper, though, was a little lucky as he was dropped twice.
South Africa in their pursuit of the big score, needed a quick start and their openers Hashim Amla and Quinton de Kock provided them just that. De Kock started off things by hitting pacer Mitchell Starc for two fours in the second over. Amla soon joined in in the fourth over as he struck a couple of boundaries off medium pacer Kane Richardson.
Amla, however, was not to stay for too long, as Richardson had his revenge when he had the South African opener caught by Steven Smith at point. This was over number seven, and the score was 44. De Kock soon followed him as Starc had him caught by James Faulkner off a pull with South Africa's score at 51 in the ninth over.
This meant de Villers and du Plessis were at the crease together now. South Africa, with two quick wickets lost, could not afford to lose more wickets at this stage. Therefore, de Villers and du Plessis did not go at a frenetic pace from the off, but ensured the boundaries and sixes kept coming neverthless. Du Plessis, in the 18th over, took two fours off James Faulkner, while in the 22nd over de Villiers hammered 10 ten runs off Steve Smith with a four and a six.
Apart from ensuring that the big hits always came, they also kept the scoreboard moving with some quick running. In light of de Villers' cramp and hamstring trouble, this was quite something. The two batsmen went along in the same way, running the ones and twos, and producing the big hit every now and then. They ensured the asking rate never reach alarming proportions.
Suddenly as 106 runs were required from the final 16 overs, de Villiers gave pacer Mitchell Johnson a chance. It was a caught and bowled opportunity, which Johnson failed to latch onto. De Villiers, at this point, was on 78. To add insult to injury, the next ball went for four off an edge.
As if one chance was not enough, de Villiers gave the Aussies another, and again they made a meal of it. Stand-in skipper George Bailey was the culprit this time and the unlucky bowler Richardson.
South Africa it seemed had luck on their side. Then du Plessis and de Villiers soon brought up their hundreds in over number 37 off Starc. Du Plessis, however, got out to Starc in the same over as he skied a ball to Smith at mid-wicket.
There was no reason to panic, though, as South Africa needed 71 in 12 overs with seven wickets in hand, and centurion de Villiers batting really well. JP Duminy had come to the crease. From here on both Duminy and de Villiers saw to it there were no further alarms as they guided South Africa to victory quite easily in the 47th over.
Earlier, Australia led by opener Aaron Finch's 102, racked up 327. Finch's knock contained nine fours and one six. He had support from his opening partner Philip Hughes, who made 51, and skipper Bailey, who made 66. These three, coupled by some hitting in the death by Smith, propelled Australia to 327. Ultimately, though, even 327 was not enough.