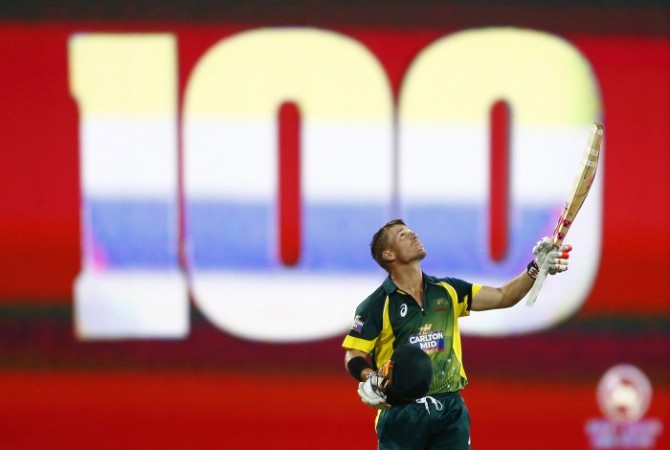 England would have dug themselves a hole midway through the tour of Australia and gladly crawled all the way back home after that disastrous Ashes and ODI series last summer Down Under, and 12 months later it looks like nothing has changed as the visitors crumbled like a sand castle in a storm in Match 1 of the tri-series, going down to the home team in tame fashion.
The Sydney pitch looked flat and tailor-made for batting, with Eoin Morgan choosing to bat first after winning the toss – but it looked like that would be all that England would win in the first innings, only for their skipper to come up with a masterful hundred to at least ensure this match would not end in a hurry.
England, courtesy a delightful 121 (136b, 11x4, 3x6) from Morgan got to 234 all out in 47.5 overs, leaving Australia with a much bigger target than they would have envisaged after ripping through the England top order.
However, that target proved to be easy as pie for Australia on the flat pitch at the SCG, especially with David Warner (127, 115b, 18x4) easing to a hundred to guide his team home with 10.1 overs and three wickets to spare.
With Aaron Finch and Warner at the top of the order, Australia are always going to get off to a fast start if the two stay at the crease for a while, and that proved to be the case as the home team raced to 33 in six overs, a pretty good score when all you are chasing is 235 for victory.
Finch (15, 18b, 3x4) fell to Chris Woakes in the seventh over, chopping on, before Shane Watson (16, 20b, 2x4), after a similar stay, was dismissed as well, this time by Chris Jordan.
All that did was bring the unstoppable Steven Smith to the crease, fresh from his ridiculous exploits in the Test series against India, and the Test skipper allied for 87 runs in 15.2 overs with warner to snuff out any chances of an England win.
Smith (37, 47b, 2x4, 1x6) took his time to get settled, watching from the other end as Warner played like Warner – on another day he might have got out early with the ball always seeming to fall just beyond the fielder – to inch Australia closer to the target.
When Smith fell to Moeen Ali -- castled while looking to hit his patented inside-out shot – in the final ball of the 28th over, with Australia on 158, needing another 77 runs for a victory, the only questions that remained was if Warner would get to his 3rd century in ODI cricket, which he duly did with a dab down to fine leg for a boundary, and if Australia would chase down the total within 40 overs for the bonus point, which they just failed to do.
The Aussies needed 53 runs from six overs to achieve that feat, and the batting Powerplay was taken in the 35th over, with Warner and George Bailey going for it from the off. That target created a bit of a buzz around the ground and a little bit of excitement as well as boundaries suddenly came in a hurry, but Bailey's and Glenn Maxwell's wicket, picked up by the excellent Woakes, curtailed that momentum.
However, with victory assured, Brad Haddin (16, 8b, 3x4) came in and smashed Stuart Broad for three consecutive fours, with Warner also getting in on the act to take the England fast bowler for 18 runs, which meant a simple 16 from the next two overs – comfortable enough for Australia, despite Warner and Haddin's wickets falling in the process.
Earlier, England were one down in the first ball of the match, with Ian Bell getting a peach of an in-swinging delivery from Mitchell "I believe in myself more now after the final Test against India" Starc, with the left-arm opening bowler then sending James Taylor packing in the third ball of the innings, via a similar delivery, which tailed in late and rapped the England batsman on the pads.
At 0/2, England were already up against it, and it did not get much better as Pat Cummins, with that pace, bounce and just a touch of movement – always the case with the white ball – got Joe Root walking back to the pavilion after the right-hander played an airy shot on the up and only managed a nick to Shane Watson in the slips.
England were 12/3 now, and all hopes rested on Moeen Ali, in good form, and skipper Morgan. It looked like the two would take England to a decent position by mixing defence with aggression, with Ali, in particular, continuing to play his shots freely – a couple of them wonderful ones as well.
However, with the Australia bowlers' tails pointing north, there was always a chance of that aggression going a little too far in such a precarious situation and that proved to be the case as Ali (22, 21b, 2x4, 1x6) swung his bat at a widish delivery from James Faulkner (10-1-47-3) and only found Glenn Maxwell at deep cover, who was perfectly positioned to complete a simple catch.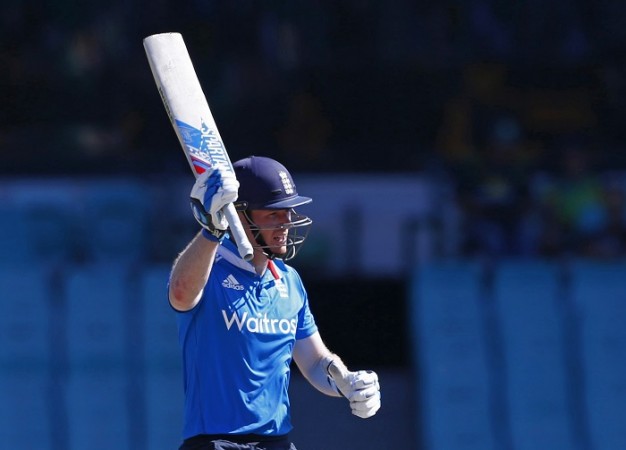 So, that rebuilding job now went to Morgan and Ravi Bopara, and after another slice of hope for the English fans, Bopara (13, 18b, 1x4) got out in Xavier Doherty's (10-0-38-1) first over, playing a cut shot straight to Maxwell at backward point.
That wicket put England on 69 for five and they were thanking their stars for having such a deep batting lineup.
Jos Buttler came in and stayed with Morgan – the first batsman to do it for a concerted time – putting on 67 runs together in a little over 19 overs. It looked like the duo would take England to the final ten overs of the innings, which at five-down would not have been too bad considering the chaos at the top.
However, that dreaded batting Powerplay, taken early by England in the 34th over, came back to haunt the batting team again as Buttler (28, 60b) stroked the ball straight down the throat of David Warner at deep cover off the bowling of the impressive Faulkner.
Morgan, who at the other end seemed untroubled and almost thriving under the pressure, had to be the man if England were to play out the 50 overs and "the man" he was as the left-hander, woefully out of form coming into this ODI series, ensured England would breeze past 200, while getting to a 100 of his own as well, via a wonderful inside-out shot over the offside.
Morgan, with a little help from Chris Jordan (18, 21b, 1x4), unfurled a few boundaries towards the end, but then came Starc (8.5-0-42-4) again to pick up the skipper and finish off the innings with a wonderful yorker.