Rohit Sharma showed his mastery of the ODI game, playing a knock of substance and real class to give India hope after a real muddle of a start, but Mitchell Starc, with the ball, and Aaron Finch, with the bat, just had too much in them as Australia scampered home to their second straight victory in the tri-series.
The match in Melbourne began exactly according to plan for the Aussies, who showed that penchant for picking up early wickets, but Rohit Sharma's brilliant 138 (139b, 9x4, 4x6) took India to a decent score, a score which might have been a lot better had Starc (10-2-43-6) not come to the fore in the final few overs.
India, who chose to bat first, eventually finished their first innings on a "could have been better, but could have been a lot worse" score of 267 for eight in 50 overs.
In reply, Finch took on the sheet anchor role, staying solid at one end, while allowing David Warner (24, 22b, 3x4), Shane Watson (41, 39b, 5x4, 1x6) and Steven Smith (47, 52b, 6x4) to go gung-ho at the other.
The result of that was cruise mode for Australia until over number 39, with the chase going exactly according to plan, before a trio of quick wickets – that of Finch, Smith and George Bailey -- just sent those butterflies into the stomachs of the batsmen again.
India fought really hard in the death overs, squeezing the runs and picking up those wickets to take the game right to the end, but Finch's patient 96 (127b, 5x4, 2x6) did the trick in the end, with that platform proving to be enough for Australia to see the target through with four wickets and an over to spare
Australia got to a good start, with Warner in full flow, and India's pace bowlers Umesh Yadav (10-1-55-2) and Mohammed Shami (8.1-0-44-1) bowling all over the place. Only Bhuvneshwar Kumar kept a good line, but the swing-bowler never really looked like picking up a wicket, allowing the home team to zoom to 51 in nine overs.
The first ball of the tenth saw Warner sent packing by Yadav, who was way too inconsistent, even if he was quite good when he was good, with the left-hander mistiming a pull shot to Suresh Raina at extra cover.
However, that half-century partnership was followed by another, via Watson and Finch, with the duo putting on 64 to put Australia in prime position. Watson, as is his wont nowadays, threw away his wicket to Akshar Patel, going for a hoick through midwicket only to miss the ball and get castled, but Smith came in in the 23rd over and built another brilliant partnership with Finch – this time worth 101 runs.
That century alliance took Australia to within 52 runs of the target, and then Smith, Finch and Bailey fell in a heap – to Shami, Yadav and R Ashwin respectively.
Glenn Maxwell (20, 23b, 1x4, 1x6) looked to hit Australia to victory, and it looked like working before Bhuvneshwar (9.5-0-44-1), completing an over for Shami, after the bowler seemed to pull up with a hamstring injury, had him dismissed much to the delight of the majority Indian crowd at Australia's most famous stadium.
The pressure was further enhanced by some impeccable bowling from Akshar Patel (10-0-45-1), leaving Australia needing 15 from the final two overs, when at one point all they needed was 50 from the last 60 balls.
James Faulkner (9 n.o., 9b, 2x4) has been Australia's finisher extraordinaire in limited-overs matches and with Brad Haddin (13 n.o., 11b, 1x4) at the other end, the team in green held their nerve to clinch that win.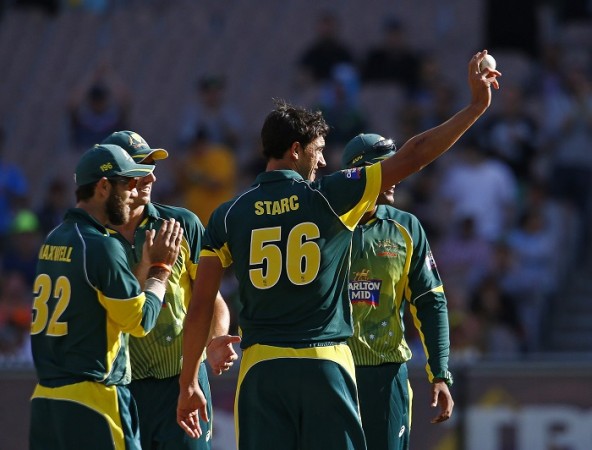 Earlier, man of the match Starc was up to his taking-wickets-in-the-opening-over tricks again for Australia -- playing with four fast bowlers -- sending Shikhar Dhawan (2, 4b) packing in the first over after the left-hander looked just as uncomfortable batting in Australian conditions as he did in the Test matches.
Ajinkya Rahane (12, 22b, 2x4) was surprisingly sent in at No.3 ahead of Virat Kohli and that ploy did not work as the batsman fell in the eighth over to debutant Gurinder Sandhu (10-0-58-1), playing a bad shot away from his body, much like Dhawan did, and getting out caught behind.
India need not worry, though, right as long as Kohli was still at the crease? And that looked like the case for a little while with Kohli (9, 16b) and Rohit looking to set the platform for the rest of the batsmen after the early wickets.
However, disaster struck for India in over number 13 with Kohli playing a pull shot that was never there off James Faulkner and only top-edging the ball tamely to Bailey at mid-off.
Now, if this was a Test match, India might have fallen away and crashed to 100-odd all out; but India in ODI cricket are a completely different beast.
With India in deep trouble at 59 for three, Rohit and Raina (51 63b, 6x4), coming off a pair in the final Test match at the SCG, put on a wonderfully-crafted 126-run partnership to take India out of troubled waters.
Rohit, cool as ice – except when he had a bit of verbals with cannot-keep-his-mouth-shut David Warner -- and Raina, calm as the backwaters of Kerala, played intelligent cricket, picked up those ones and twos, rotated the strike, hit the boundaries when the ball was there to be hit (simple, ain't it?) and easily took India to a position of comfort from a one-more-wicket-and-it-could-end-in-a-hurry scenario.
Both the batsmen breezed to their respective half-centuries in the process as well, but Raina fell soon after completing his 50, with that dreaded batting Powerplay hurting the batsmen again. It was all Raina's fault the wicket, with the left-hander going for a slap past mid-on off the bowling of Starc but mistiming the shot completely and looping a simple catch to Glenn Maxwell.
Rohit was on 98 at that point, with India on 185/4 in 35 overs, and in came Dhoni, cooler than ice, to ease those slight nerves that might have come about with the wicket of Raina and act as the perfect foil to the marauding Rohit, who got to his sixth ODI century, and only the second by an Indian at the MCG.
Dhoni (19, 31b, 2x4) and Rohit put on 52 runs together in a touch over nine overs, and just when that overdrive gear was about to be shifted to, with the match heading into the final five overs, Starc struck again, dismissing the India skipper, who played one on to his stumps.
Akshar Patel came in and went a couple of balls later, with Starc getting one to tail in and crash onto his pads – the ball was going well down leg, but that finger was raised -- as a wicket maiden from the left-armer in the 45th over of the innings swung the momentum in Australia's favour again.
Even with Rohit remaining at the crease until the 49th over – Starc would pick him up to complete his five-for, and then another to take six impeccable wickets – India could only manage 30 runs in the final 30 deliveries, which in the end proved to be the difference between victory and defeat.