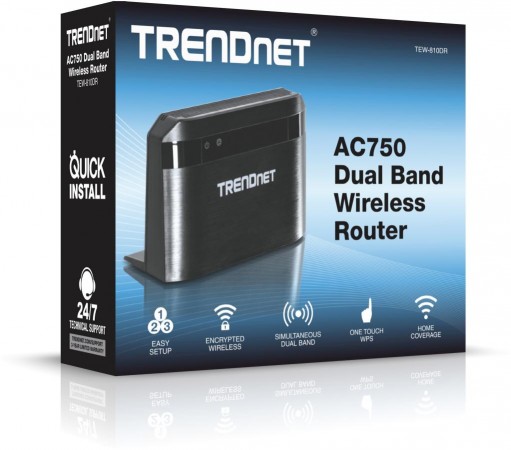 Networking product manufacturer TRENDnet has announced numerous wireless routers. The newly released routers belong to the dual-band, tri-band and portable wireless series and is named AC2600, AC3200 and AC750. While AC2600 and AC3200 are dual-band and tri-band routers, AC750 is a wireless travel router.
The AC2600 dual band wireless router, model TEW-827DRU, features two concurrent wireless networks, a 1,733 Mbps WiFi AC network and a 800 Mbps WiFi N network.
Multiple-User MIMO (MU-MIMO) antenna technology (Qualcomm MU/EFX platform) enables the router to serve multiple devices simultaneously, instead of processing device traffic in a queue one at a time. The TEW-827DRU sports four high performance dual band external detachable antennas, all Gigabit network ports, and two SuperSpeed USB 3.0 share ports. Content sharing opportunities are expanded with Samba client support, an iTunes music server, and a BitTorrent download client.
The AC3200 tri-band wireless router, model TEW-828DRU features three concurrent wireless networks-two separate ultra-performance 1,300 Mbps WiFi AC and a 600 Mbps WiFi N networks.
TEW-828DRU sports six high performance external antennas, all Gigabit network ports, and USB 3.0 and USB 2.0 share ports. Six high-end WiFi amplifiers maximize WiFi signal output and targeted Beamforming technology increases real-time performance by directing stronger wireless signals to each connected device's specific location.
SmartConnect technology virtually combines the router's two separate 1,300 Mbps WiFi AC bands, so that only one WiFi AC network is visible, while managing each band individually.
TRENDnet's AC750 wireless travel router, model TEW-817DTR, is a powerful travel router with concurrent 433 Mbps WiFi AC and 300 Mbps WiFi N bands, for on the go professionals. Users quickly convert a single wired or wireless internet connection to a shared WiFi network for all Wireless AC and Wireless N devices.
The compact TEW-817DTR plugs directly into a power outlet and is held off the ground by the outlet. Swappable North American, European, and United Kingdom power plugs ensure the travel router will work on every continent.
For added protection, all 3 router's WiFi bands are pre-encrypted with their own unique eight character password. Furthermore, users can create guest networks which only allow internet access.