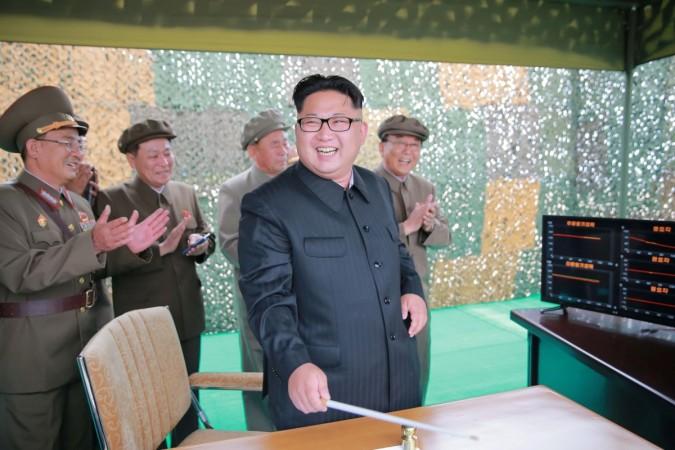 North Korean leader Kim Jong-un is said to be on a secret visit to China and reportedly arrived in Beijing on a private train Monday, March 26. The old-style armored green train with horizontal yellow lines is said to be the same one that Jong-un's father Kim Jong-il used to visit China and Russia.
The train is known to be heavily secured and pulled by two power units. While the security doesn't really come as a surprise, what has caught the attention of many is the extravagant facilities that the train comes with.
The details of the facilities were revealed by Konstantin Pulikovsky, a former Russian diplomat, in the book Orient Express, which was published in 2002. As per the book, gourmet meals are served on the train and eaten with silver chopsticks.
''It was possible to order any dish of Russian, Chinese, Korean, Japanese and French cuisine,'' he wrote, according to The New York Times.
The train is also said to have ''beautiful lady conductors'' and maintains a stock of live lobsters so that the North Korean leader has access to fresh food wherever he goes. The train also has a never-ending stock of a variety of wines such as Bordeaux and Beaujolais flown in from Paris.
The train is known to be equipped with high-end communication systems, satellite phones, and flat-screen TVs so that the former leader could receive information and dole out orders no matter where he is.
The train reportedly has about 90 carriages, especially when traveling abroad, and about 20 stations have been built in North Korea exclusively for its use. If that wasn't enough, North Korean leaders' private train travels with two other trains – one that travels before the main entourage, and another that travels behind it, reported the Chosun Ilbo.
The train that travels ahead of the main entourage takes care of all the security check of railway lines. The middle one mostly carries the North Korean leader and typically travels about 20-60 minutes after the first train, and the third one is known to carry the leader's security staff and communication devices.
Such is the security that the areas, through which the train is set to travel, are cleared about 24 hours in advance.