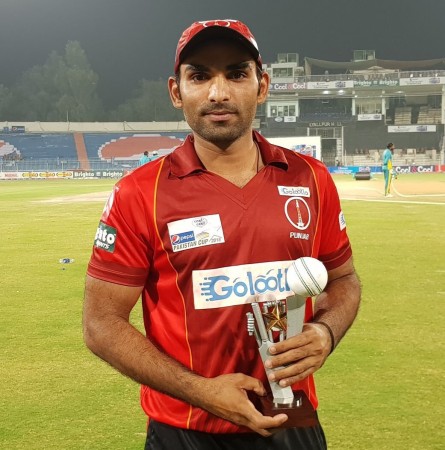 Pakistan batsman Asif Ali's daughter, who was suffering from stage IV cancer, passed away at a hospital in the US on Sunday, May 19. Noor Fatima was just 18 months old and the extent and nature of her illness were discovered a few weeks ago when Asif was playing in the Pakistan Super League (PSL) T20 tournament.
Ali had also participated in the 5th and final ODI in the England series which took place earlier in the day. This tragic news was announced on the Twitter handle of Islamabad United, the team which Ali represents in the PSL.
"ISLU family pays its deepest condolences to @AasifAli2018 on the tragic loss of his daughter. Our thoughts and prayers go out to Asif and his family. Asif is a great example of strength and courage. He is an inspiration to us," the statement from Islamabad United read.
On April 22, the cricketer had written about his daughter's condition on Twitter. "My daughter is fighting the stage IV cancer and we are taking her to US for her treatment. A big shout out to @usembislamabad and @USCGLahore for issuing the visa to us within an hour. Special thanks to Mike, Elizabeth, Tanveer & @TalhaAisham Bhai. Keep my princess in your Duas!" the 27-year old had revealed.
Strangely, there wasn't any statement released by the Pakistan Cricket Board (PCB) initially. However, other prominent people have expressed their condolences on the unfortunate incident. Pakistan's foreign minister Shah Mahmood Qureshi said, "I know too well the pain & anguish of losing a loved one to cancer. My heart goes out to @AasifAli2018 & his family who lost their beautiful child to this most merciless disease."
Ali is a lower order batsman known for his aggressive style of batting and the ability to be a dangerous power hitter in the death overs. He scored two half-centuries in the series in England which sealed his spot in the final 15-man squad of Pakistan for the World Cup despite him not being in the provisional squad announced earlier.
During the press conference addressed by Inzamam-ul-Haq, the chief selector, to announce the final 15-man squad for the World Cup, the former captain expressed his condolences and also informed reporters that the bereaved cricketer would be leaving the team temporarily before the World Cup. "We are with Asif in this tough time. He will return to Pakistan and then go back before the warm-up matches," Inzamam said.