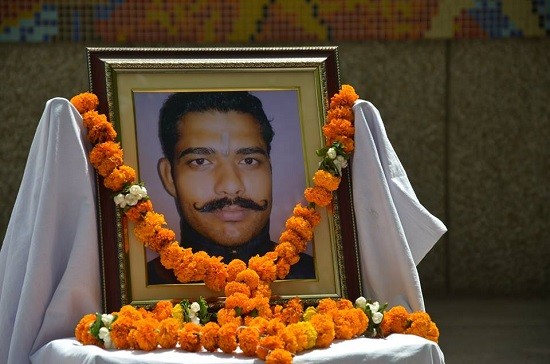 A 26-year old traffic constable killed by an unruly driver following an argument over a traffic violation was given the guard of honour by the Delhi police on Sunday.
The Delhi traffic police constable Manna Ram was killed on Saturday evening. Delhi Police commissioner BS Bassi along wih other senior traffic police officers were present at the ceremony.
The incident took place in Moti Nagar, when three youth travelling in a four-wheeler were stopped by Ram for driving on the wrong side of the road. The three then got into an argument with the cop on duty and, in fit of rage, the driver reversed the vehicle and allegedly mowed down the cop.
"Upholding the finest tradition of Delhi Police, our Traffic constable Mana Ram has scarified his life in the line of duty while regulating and managing traffic at Zakhira Flyover in the evening on 14th June, 2014. Delhi Police salutes his supreme sacrifice and dedication towards his duty," Muktesh Chander, Special Commissioner of Police, posted on the Delhi traffic police Facebook page.
Detailing the incident, the Delhi police on its Facebook page revealed that Ram had signalled the car for breaking rules and asked the driver to follow the diversion plan at the base of Zakhira flyover at around 7:20 pm. Instead of following his directions, the occupants of the car reversed the vehicle and rammed it into the constable, while attempting to flee the scene.
As the car rammed into him, the impact threw him on to the bonnet of the car. He tried to hang on to the edge of the bonnet, the wipers and the side view mirror, but lost grip and was thrown off a good 150 metres on to the road. With grievous injuries Ram was rushed to a city hospital, where he breathed his last.
"The occupants of the car were booked for murder and under other sections of the Indian Penal Code and the Motor Vehicles Act. The arrested persons are in their early twenties and late teens."
Officials of the Delhi Police paid their tributes to the traffic constable on Sunday. Ram, a resident of Nagaur, Rajasthan, joined the Delhi Police as a constable in 2010 and after successful completion of his training, joined the Traffic Unit on his first posting.
"A young, vibrant and valiant life has been snuffed out. He leaves behind his wife, a two year old son, two younger sisters and aged parents," Delhi police said in the post.