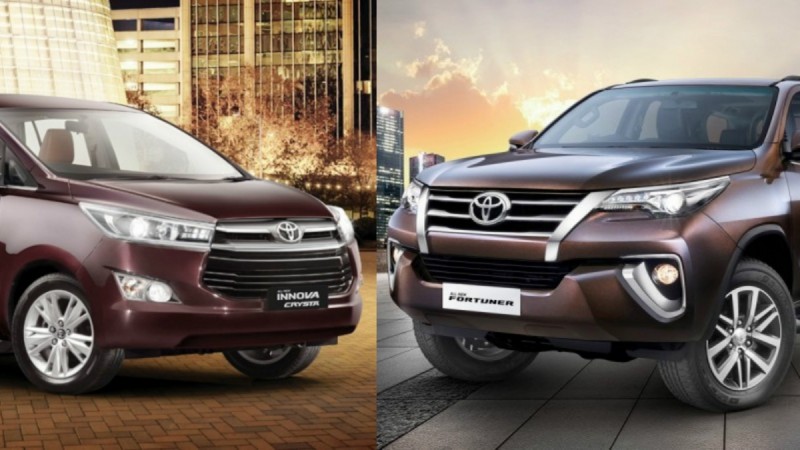 Toyota Kirloksar Motor (TKM) updated two of its most important products, the Innova and the Fortuner SUV, in 2016. The Japanese carmaker introduced petrol engines for both models, and now emerging reports indicate the company is also working on the hybrid version of both vehicles.
TKM reportedly plans to focus on hybrid versions for its current line-up, reports Oncars. The company is, in fact, mulling over hybrid powertrain for all its vehicles — Etios, Liva, Altis, Innova as well as Fortuner. Akito Tachibana, the managing director of Toyota Kirloskar Motor, clarified further that if the company aims to bring hybrid technology in India, models such as Innova, Fortuner and Altis will be the first ones to sport the technology, followed by Liva and Etios, the report adds.
It is not surprising that TKM is planning a hybrid powertrain for its entire range. The Camry hybrid is one of the well received hybrid cars in India. Unlike the mild hybrid system, it uses a forced induction engine as the main source of power, supplemented by an electric motor. The Camry Hybrid is powered by a 2.5-litre petrol engine with an electric motor. It runs on Hybrid Synergy Drive, which can sense and change the source of power from petrol engine to electric motor. It claims to offer a better fuel efficiency of 19.16 kmpl.
In addition to better fuel efficiency, the hybrid powertrain will help Toyota sell Innova Crysta and the Fortuner as eco-friendly cars at a time when diesel-run big vehicles are considered a major source of air pollution in the country.
There is no information on the hybrid powertrain for the Innova Crysta and the Fortuner so far. Toyota may add the electric motor to the existing engines of the vehicles. However, an increase in power is not expected to be brought about.
Source: Oncars