Tough times are ahead for Indian rubber producers with the commodity likely to remain soft in the medium-to-long term, analysts say.
They cite the refusal of major rubber producers to intervene to firm up the commodity and the rising international inventory amid a demand slump from China, which is caught in a debilitating trade war with the US.
On ICEX, the December contract closed on Tuesday at Rs 12,438 down Rs 134, or 1.07 percent, from the previous close, with markedly low trade volumes and tracking the weak benchmark contracts on Tokyo Commodity Exchange and the Shanghai Futures Exchange.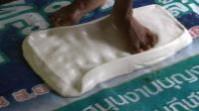 The Association of Natural Rubber Producing Countries (ANRPC), an inter-governmental body of top global producers, reckons natural rubber may not recover until 2022. Indian press quoted Jom Jacob, senior economist at ANRPC, as telling the recent India Rubber Meet in Kochi though consumption would outstrip supply in 2019, the likely production rise under favorable weather conditions will keep the price down.
According to him, world production is anticipated to grow 5.8 percent to 14.696 million tonnes in 2019 provided the natural rubber prices remain at the current level. "World consumption is anticipated at 14.730 million tonnes, up 3.6 percent. The consumption of natural rubber in China during 2019 is likely to be affected by the high US tariff," Jacob said.
Malaysia is the latest rubber producer to refuse intervention to keep rubber buoyant. Indonesia and Thailand had earlier refused to intervene citing prohibitive costs and market distortion.
Malaysian Primary Industries Ministry (MPI) said on Tuesday that it will not raise the floor price. MPI fears such an intervention will incur high costs and encourage smuggling as global prices remain soft.
The ministry said that if the rubber floor price was set at 4 Malaysian ringgits ($0.96) per kg as the producers demand, it will annually cost the government 2.5 billion ringgits with the currently reigning price hovering over 2.2 ringgits per kg.
Moreover, it could pave the way for more speculative activity among sellers by suppressing the price in the hope of profiting from the floor price. This could also result in increased smuggling because of the price differential, the ministry fears.
MPI's response was to a proposal of Dr Azman Ibrahim chairman of the Terengganu state agriculture, agro-based industry and rural development panel that small producers will not benefit from the 50 million ringgits allocation for the Rubber Production Incentive scheme.