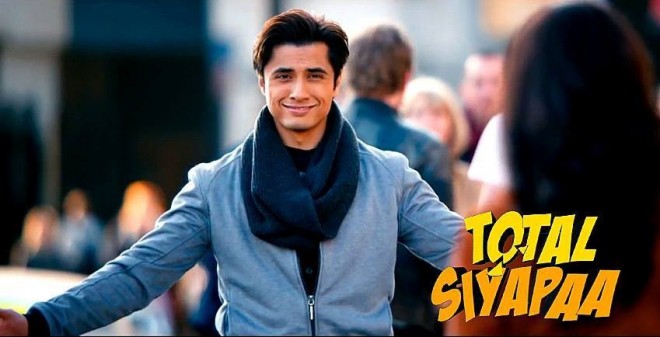 Romantic comedy film "Total Siyapaa" starring Yami Gautam and Pakistani actor-singer Ali Zafar has failed to impress the critics upon its release.
The film has received mostly negative reviews and critics have suggested skipping this film.
Directed by E. Nivas, the film also features Anupam Kher, Kiron Kher, Sara Khan, Vishwa Badola and Anuj Pandit in important roles.
Check the reviews here:
Mohar Basu of Koimoi.com said: "Total Siyapaa is a must never watch degree of boring film. Despite being framed on a lush and interesting premise there wasn't enough steam to drive it forward. With a limp screenplay, lacking in sprightly moments, this film is droopingly dull and horribly bland. I am appalled to see a lame affair like this coming out of Neeraj Pandey's banner.
"Ali Zafar is heart-breakingly bad. He is uninteresting and not in one scene is the actor used well. The same goes for Yami. I have no idea why she decided to waste herself over a sad film like this.
"Total Siyapaa is audaciously maddening. Even the slight magic that the story might have had gets butchered in the screenplay. Leaving behind no feeling, neither comedy nor romance, I have not an inkling of an idea what were the makers trying to create here."
Taran Adarsh of Bollywood Hungama said: "First things first! TOTAL SIYAPAA is based on ONLY HUMAN [SERES QUERIDOS], a Spanish film. The nationalities have been changed [to make it more relatable], while the premise has been modified [albeit slightly] to suit the Indian sensibilities. Also, unlike the above-mentioned Hindi films, this one's set in London. So, there! The question is, does the cross-border romance strike a chord? Or does the storyteller miss the opportunity to drive home a point?
"TOTAL SIYAPAA would've tottered completely had the makers cast names with no flair for comedy. Ali Zafar has the charisma and talent to carry off the part. He's likeable as the hapless lover stuck in a crazy situation. Yami Gautam is easy on the eye and leaves an impact. But it is Kirron Kher who steals the show with an over the top act. She is terrific. Anupam Kher is fun to watch, but gets limited footage.
"On the whole, TOTAL SIYAPAA appeals in bits and spurts. You expect a laugh-riot, but what comes across on screen is half-baked."
Sneha May Francis of Emirates 24/7 said: "If you've seen the trailers of 'Total Siyappa', chances are you've seen the fun parts, leaving the handful of us in the theatre rather disappointed over how the movie doesn't match up to its hype.
"That aside, the screenplay and dialogues by famed director Neeraj Pandey, who has dramatic thrillers 'A Wednesday' and 'Special 26' to his credit, lacks soul and falls (horribly) flat.
"Total Siyappa' has its moments, no doubt, but it lacks the finesse and spunk to make it entertaining.
"The script would've demanded it, but the duo lack experience nor insight to adapt their on-screen personas to play out their own strengths. Their director, too, has left them unguided. With so much going against 'Total Siyappa', we suggest you skip the ordeal completely and revisit those snappy trailers instead, because that's where the fun lies."
Subhash K Jha in his review said: "A lot of the humour simply sags in soggy lumps. There is a distinctly 'European' flavour and fervour to the unraveling of the comic mode in the dysfunctional family's life. Ali Zafar as the bewildered Pakistani boyfriend and Kirron Kher as his scattered mother-in-law-to-be project a prowling predatoriness to their scenes together. They are a delight to watch when thrown together.
"I really wish there was more of Kher and Zafar in the plot . The meat of the matter lies in the mater's time on screen with her damaad. Yami Gautam as the giggly prim girlfriend is a sketchily written mediocre character with no dips and curves.
"The cast,as mentioned, largely does well for itself with Ali Zafar, Kirron Kher and Sara Khan leading the pack. Zafar and his screen-other have an excellent Indo-Pak moment towards the end when they taunt one another's country's politics.
"Is it enough for two individuals from clashing cultures and countries to be in love?Love can be quite a bitch. Total Siyapaa is total madness.An audacious comedy that dares to poke fun at a border issue, the film is stylized and is attentively staged. It may not equal the intense cross-border passion of RandhirKapoor's Henna. But it isn't even trying."
(Edited by Vanilla Sharma)