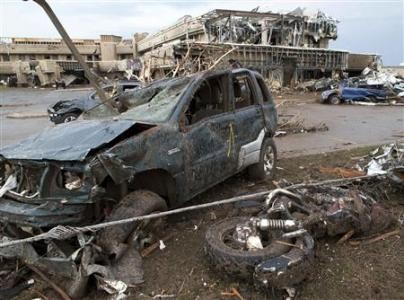 Several tornadoes struck the south of United States on Tuesday, but the most lethal one wreaked destruction in Mississippi, killing at least four people and snapping out power for more than 8,000 people , while even damaging brick-and-mortar houses.
Two deaths were reported from Jones County while two other were reported from Marion County in Mississppi.
"Two people died inside their mobile home that was completely destroyed. This was in the rural part of Jones County. There were other brick and mortar homes that had major damage but we have no other injuries reported," Jones County Sheriff Alex Hodge was quoted saying by CNN.
"If today's storm deaths prove to all have been caused by tornadoes, it will become the deadliest December tornado event in Mississippi since 38 died in the Vicksburg tornado of Dec. 5, 1953," Nick Wiltgen, senior digital meteorologist at weather.com said.
A tornado touched down twice in Amite City, Louisiana, ripping off the roof from at least one house.
Highways in Columbia, Mississippi were closed because of snapped power lines, uprooted trees and other debris.
Tallahassee in Florida declared a flash flood emergency on Tuesday, after it saw its rainiest day on record for the month of December.
Columbia MS hit hard by tornado moments ago. Please pray. pic.twitter.com/vUqXDqCi6z

— Randall Buchanan (@kingsinvitation) December 23, 2014