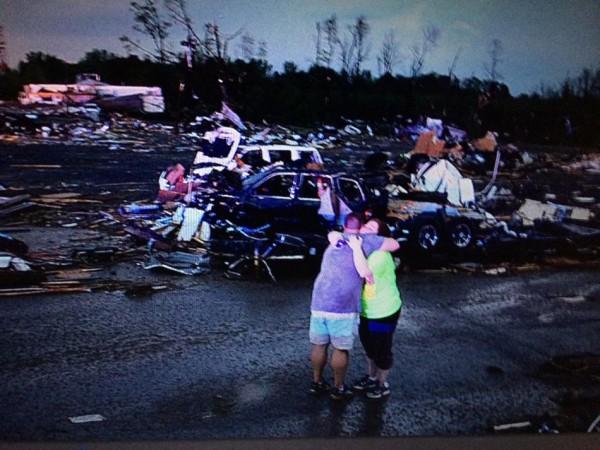 A devastating band of Tornado swept through the Central Plains and mid-South on late Sunday, killing at least 12 people in Arkansas and Oklahoma, various news sources are reporting.
Some of the worst affected areas includes north of Little Rock, Arkansas, where deadly tornadoes devastated the towns of Mayflower and Vilonia, the CNN reports.
"It's chaos here," Vilonia Mayor James Firestone told the news Channel. "Our downtown area seems like it's completely leveled."
The community of about 3,800 people had seen another deadly storm that almost leveled the town three years ago and Sunday's tornado followed essentially the same path, the mayor said.
Arkansas Governor Mike Beebe confirmed about it on Twitter on Sunday that there were 11 fatalities in his state.
There are now 11 confirmed deaths from this storm. 5 in Faulkner County, 5 in Pulaski County, 1 in White County. #arwx

— Governor Mike Beebe (@GovBeebeMedia) April 28, 2014
It's been a truly awful night for many families, neighborhoods and communities, but Arkansans always step up to help each other recover. — Governor Mike Beebe (@GovBeebeMedia) April 28, 2014
Earlier on Sunday, one person was killed as the deadly twister hit the small Oklahoma town of Quapaw, the Ottawa County Sheriff's Department said.
Tornadoes were also reported in Kansas, Nebraska and Missouri, while rains of golf-ball sized hail fell in some areas, the NBC News reports.
Photos shared on Twitter and Facebook show damage to the local school among other buildings in Vilonia and Mayflower.
As the tornado approached, the official Twitter handle of Little Rock, the largest town and capital of Arkansas issued a series of warning messages to people:
TORNADO EMERGENCY FOR EL PASO AND FLOYD! TORNADO 2 MILES NE OF VILONIA MOVING NE! TAKE COVER NOW! #arwx

— NWS Little Rock (@NWSLittleRock) April 28, 2014
TORNADO ON THE GROUND 2 MILES NORTH OF 64 AND HIGHWAY 5 NEAR EL PASO! TAKE COVER!#ARWX — NWS Little Rock (@NWSLittleRock) April 28, 2014
Rescue workers in Mayflower and Vilonia have been advised by phone and radio that the next round of storms is approaching. #arwx

— NWS Little Rock (@NWSLittleRock) April 28, 2014
Police also said at one point that El Paso is "losing houses left and right" to the tornado, the Epoch Times reported citing KATV.
The National Weather Service said that the tornado touched down five miles southwest of Vilonia at around 8:45 pm CDT and was moving near El Paso and Floyd after that.
The tornado has already moved six miles northeast of Steprock or 17 miles northeast of Searcy, moving in the direction of northeast.
The CNN meteorologist Chad Myers, who is reportedly in Mayflower, has estimated the winds from the storm at 130-150 miles per hour.
(Ed:AJ)