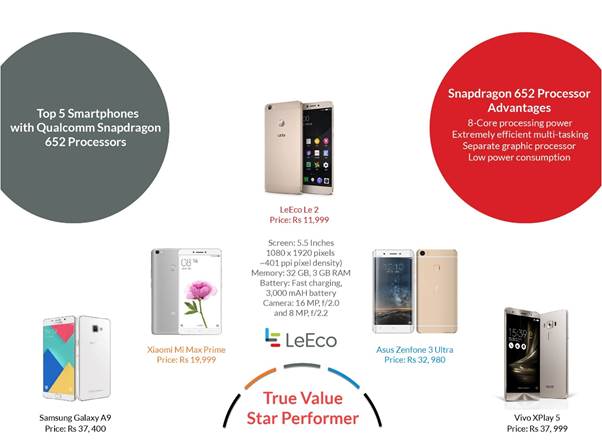 Smartphones have become a necessity than a luxury. Every person relies on smartphones for more than just communication as the phones are now equipped with a lot more than just that. Sending and receiving emails, browsing internet, streaming movies, video calling and even virtual reality, everything is now available at your fingertips.
As the demand for smartphones grow, companies are driven to bring innovation to stay in the race. This year, we witnessed a massive jump in the performance of smartphones. Offering 2-3GB RAM, 16-32GB storage, admirable GPUs and more became the new benchmark for any smartphone.
Budget smartphones with premium features were the highlight of 2016 despite all the importance given to iPhone 7, Samsung Galaxy S7 and Note 7 and other flagships. We saw several budget and premium smartphones powered by Qualcomm Snapdragon 652 chipset, which smoothened the performance of a smartphone.
What lies underneath matters because your entire smartphone relies on it. Snapdragon 652 is built using big.LITTLE octa-core CPU configuration, has four ARM Cortex-A72 for power and four more Cortex-A53 cores for energy efficiency. This makes multi-tasking a breeze at the same time preventing your phone from dying on your midday.
If performance of a smartphone matters to you while buying a smartphone without drilling a deep hole in the pocket, here are the top five options for you to explore. All these smartphones are powered by Snapdragon 652, which ensures premium-level performance any time of the day.
LeEco Le 2
Le 2 is the cheapest option available in the market for a smartphone with Snapdragon 652 chipset. You can get one at just Rs. 11,999.
Read: LeEco Le 2 Review
Vivo XPlay 5
Vivo's premium XPlay 5 is priced at Rs 37,999 and delivers a flagship-level experience.
Samsung Galaxy A9 Pro
Samsung Galaxy A9 Pro is a mid-range premium smartphone powered by Snapdragon 652 and it is priced at Rs. 32,490.
Xiaomi Mi Max Prime
Xiaomi Mi Max Prime is the upgraded variant of the Mi Max, which featured Snapdragon 650. But the new model has Snapdragon 652 under the hood. It is priced at Rs. 19,999.
Asus Zenfone 3 Ultra
Asus joins the price league of Samsung and Vivo with its Zenfone 3 Ultra, which is powered by Snapdragon 652. The handset costs Rs. 32,980.
ZTE Nubia N11
ZTE Nubia N11 is also powered by the same chipset as others in this list. The pricing of the phone is yet to be revealed. The company will make an official announcement on December 14.