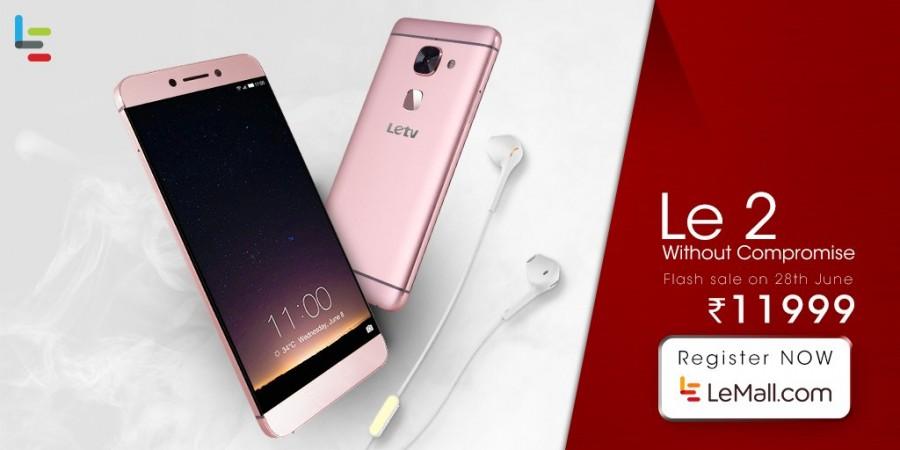 Ever since LeEco stepped in India earlier this year, there has been nothing but success on its side. Things have been looking great for this Chinese Internet conglomerate with record-breaking sales of its so-called "Superphones" in the past months. The company launched a new affordable premium phone and the successor to its popular Le 1s – the Le 2 – in India last month, which has steered the company's sales records to new heights.
We already spoke about the Le 2's design and its key features during our first impressions, but here's a full review of the device after testing it under various conditions for a good amount of time. There are several pros to buying this budget premium smartphone, which costs Rs. 11,999, but it is not devoid of flaws. We are going to list all that's good and bad in the Le 2 smartphone.
Design
LeEco has mastered the art of design in smartphones and the Le 2 is no short of a well-thought, good looking phone you would need. Our notion on the Le 2's design hasn't changed since the time we spoke about it in our first impressions, but there is certainly more to add.
We found the Le 2 quite handy despite its 5.5-inch display and the sharp edges give you a firm grip. It is good for single-hand use, which is a concern for many who do not wish to compromise on big viewable screens. LeEco Le 2 has 74.4% screen-to-body ratio, which makes it compact in hands without shrinking the display size.
LeEco Le 2 design is unique and handy.
Display
Having a Full HD resolution display has become a standard in budget smartphones and the Le 2 delivers well on that front. The display is bright, vibrant and has good viewing angles. But we struggled to read the text or view photos while using the handset in sunlight with the brightness levels set low. The glossy finish of the display might be the reason for it but setting the brightness levels to high can resolve the problem.
The Full HD display is just as good as it is in other smartphones.
Camera
LeEco Le 2's camera puts up a great fight for handsets in the sub-Rs. 15,000 price range. The handset has a 16-megapixel rear-facing camera with dual-LED flash, PDAF and f/2.0 aperture. On the front side, there's an equally impressive 8MP snapper with a wide angle lens. We tested the camera for its accuracy and found it fairly well. But the results aren't as great as what would expect of such highly-capable camera configuration. Especially the low-light photos on both front and rear cameras were not up to the mark.
Below are some sample photos taken using LeEco Le 2:
LeEco Le 2's camera is good only to an extent, but there's room for improvement.
Performance
LeEco Le 2's performance is reliable and built to take pressure. Multi-tasking was handled with ease, but some apps took longer than usual to launch. The overall user experience was lag-free and smooth, thanks to the company's custom eUI 5.8 interface, which is based on Android 6.0 Marshmallow OS. The handset's 3GB RAM combined with Snapdragon 652 octa-core processor played a vital role in the smooth-functioning of the phone while playing games, browsing internet, messaging and calling. Some internet based games such as 8 Ball Pool and LAN-based games such as Mini Militia played without hiccups, but the phone heated up after playing the game for more than 30 minutes.
For regular users, who do not spend much time into gaming, Le 2 serves a great purpose.
At the launch, LeEco said the handset scored 79636 on AnTuTu. In our test during the review, we found it to exceed that number and score an impressive 81356. Below are the screenshots of other benchmarking test results, which make handsets like Xiaomi Redmi Note 3, Meizu M3 Note, LeEco Le 1s look weak.
Audio
While most phones render this category unimportant, LeEco really took out the time to make an example out of it. Le 2 is one of the first phones in the market to support USB Type-C headphones. The audio port is integrated with Continual Digital Lossless Audio (CDLA). We separately reviewed the headphones and found it to achieve new levels of clarity. Le 2 buyers will not get the LeEco's CDLA-enabled USB Type-C headphones, but they can be bought separately for Rs. 1,990. Only the early buyers of the device got the headphones for free. The stereo on the Le 2 is loud and clear and doesn't block or cluster sound.
LeEco's Le 2 USB Type-C audio is one of the main reasons to buy the handset.
Battery
LeEco phones are equipped with fast charging technology and it has been one of our favourite features. As promised, the Le 2 also charges up pretty quickly. The 3,000mAh battery can charge from zero to 60 in under 30 minutes and reach its full charge in an hour. In terms of battery life, we were not much impressed by the Le 2. LeEco Le 2 has a USB Type-C port, which works both for audio and for charging purposes.
Under normal use, the Le 2 smartphone lasted us almost 12 hours, but that includes limited use of internet and related apps. With heavy internet usage (4G/3G), the handset dies out after 7 hours, which is decent but nothing far-fetched considering its rivals can do much better on this front. But if you mix usage with Wi-Fi, 3G, calling and messaging, Le 2 is bound to push you through your office hours and easily reach home in time for a refill.
But LeEco addressed that issue in a software update, which included Power saving management. The app notifies whenever a specific app is consuming too much battery in the background and gives an option to close it. There is Battery Assistant that can be turned on at low levels to extend the life of the handset by reducing performance and limiting most battery consuming activities.
Overall, Le 2 battery won't disappoint you, but it also won't woo you.
Fingerprint scanner
As all LeEco smartphones, Le 2 also has a 360-degree, fine and accurate fingerprint scanner that can unlock the device in a matter of less than a second. It still doesn't work on sweaty or wet fingers, but the accuracy levels are same as in the Le 1s and Le 1s Eco.
Dual SIM
LeEco supports dual SIM cards, but the review unit we received did not recognize the secondary SIM as valid. Since the secondary SIM card slot isn't a hybrid one, we couldn't check with a microSD card slot. Users only get 32GB onboard storage and there is no way you can add more to it.
Verdict
At the price of Rs. 11,999, buyers have options of Xiaomi Redmi Note 3, Lenovo K4 Note, Huawei Honor 5C, Moto G4 Plus and more, but LeEco Le 2 can easily be one of the top choices. LeEco Le 2 buyers will not be disappointed by its design, camera, display and performance, but there are few things like the battery and low-light photography that could use a bit of improvement.
For its price, LeEco Le 2 is a total worth and can surely turn heads.