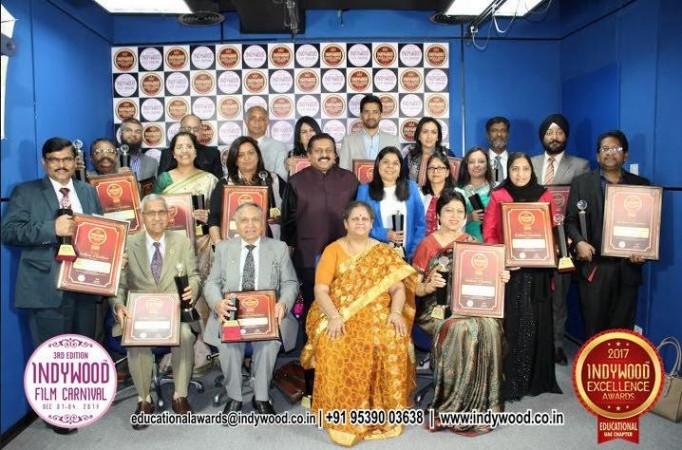 Top education professionals and organisations were honoured with the Indywood Education Excellence Awards 2017 at a grand event held at Ramoji Film City in Hyderabad on December 2, 2017.
The prestigious Indywood award was organised to recognise and facilitate educationalists and institutions for their relentless services. Sandhya Puttyah Jugnauth, Ministry of Arts and Culture, Mauritius and Nanda Narrainen, Head – Film and Creative Industries presented the awards on the occasion.
A panel discussion on "How technology can enhance the quality of education" was also conducted at the Indywood Film Carnival. Dr Mohan Rao Yadlapalli, Motivational Speaker and Personality Development Trainer, Dr SV KOTA Reddy, President - Academics, Manipal University and Dr RN Shah, Director, BITS Pilani - Dubai Campus were the panellist on this occasion.
The session witnessed a discussion on different measures that can be taken to improve the quality of education in the country. It was moderated by Amarnath Goud, Founder and CEO, My Dream Campus, Malaysia.
Indywood Education Excellence Awards 2017 was organised as a part of Project Indywood, a US$10 Billion Project to be initiated by a consortium of 2,000 Indian corporate and multi-millionaires.
Here is the winners' list of Indywood Education Excellence Award:
| | | |
| --- | --- | --- |
| No | Award | Winner |
| 1 | Life Time Achievement – Teaching | Prof Vivekanandan Paramu, Professor, SN College |
| 2 | Life Time Achievement – Entrepreneurship | Mr Sailanathan Podian, Founder, Director and CEO of Kolej Megatech |
| 3 | Life Time Achievement - Leadership | Dr. Ajith Kumar Nagpal, Chairman And Director General, Amity University |
| 4 | Life Time Achievement – Academics | Dr. S. Gurumadhva Rao, Vice Chancellor, Rak Medical University |
| 5 | Special Hall of Fame - Entrepreneurship In Education | Mr AM Gopalan, Chairman And Managing Director, Sree Gokulam Group Of Companies |
| 6 | Contribution to Education Management & Consulting | Mr. Naga Prasad Tummala, Chairman, People Combine |
| 7 | Educational Initiative - Professional Development for Rural Youth | Mr Sanjeev Naik Nimbalkar, Secretary , Phaltan Education Society |
| 8 | Contribution to Training & Development | Dr Mohan Rao Yadlapalli, Motivational Speaker & Personality Development Trainer |
| 9 | Contribution to Higher Education | Dr. CH. V.Purushotham Reddy, Principal, Chaitanya Degree College |
| 10 | Excellence in Educational Consultancy | Dr.V.J Naidu, Consultant, UNDP |
| 11 | Innovative Educational Practices | Dr. K. Karunakaran, Principal & Secretary, Sri Ramakrishna College of Arts and Science |
| 12 | Contribution to Education Sector - Entrepreneurship | Dr. I Krishna Pillai, Chairman, Cape Group of Institutions |
| 13 | Contribution to Education Sector - Visionary Leader | Dr.Ishari K Ganesh, Founder, Chancellor of Vels University |
| 14 | Institute of Excellence in Innovative Technology - DUBAI CAMPUS | Birla Institute of Technology & Science, Pilani - Dubai Campus |
| | Institute of Excellence in Architecture and Engineering - DUBAI CAMPUS | Manipal University - Dubai Campus |
| | Regional Engineering Educational Institute | Nalla Malla Reddy Engineering College |
| | Institute of Excellence in Agricultural Studies | College Of Agricultural Biotechnology |
| | Best Initiative - Infrastructure Development | Faizal And Shabana Foundation |
| | Best College for Technical Education | Federal Institute of Science and Technology |
| | Institute of Excellence in Nursing Studies | KIMS College of Nursing |
| | Innovative Educational Mobile App | My Dream Campus |