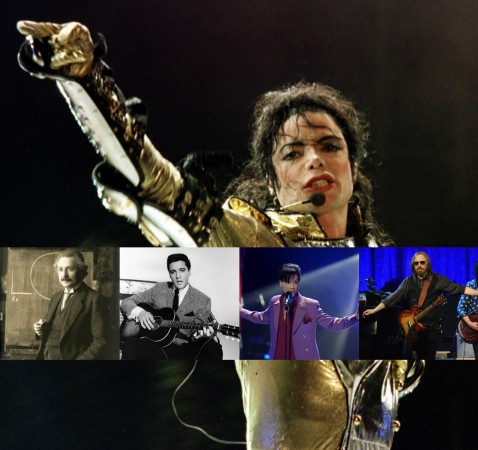 It has been eight solid years since Michael Jackson died. But the late musician has been cashing in on his legacy even after his death. Standing atop the Forbes' Top 13 list of highest-earning dead celebrities for the fifth straight year, MJ once again proves he is the King.
The King of Pop beat several other dead musicians to top the list this year. The Thriller hitmaker has earned about $75 million during a one year period, Forbes reveals. His earnings are courtesy Vegas Cirque du Soleil show, Michael Jackson One, a stake in the EMI music publishing catalogue and a new greatest hits album, 'Scream,' released last September.
Also Read: From Bill Gates to Lewis Hamilton: Here is how much the rich and famous make every day
Accompanying Jackson in the top 5 are two other legendary singers – Elvis Presley and Bob Marley, earning $35 million and Marley ranks fifth with $23 million, respectively. However, they don't come right below the singer. Forbes reveals Golf Legend Arnold Palmer ranked second in the list with an income of $40 million.
'Peanuts' creator Charles Schulz took the third spot with $38 million. His lucrative MetLife campaign — which expires in 2019 — licensing, retail and book sales helped his brand name to earn the mentioned amount.
Presley comes fourth with his earnings a result of new openings within Graceland: The Guesthouse hotel and Elvis Presley's Memphis Entertainment Complex. Marley places himself after Presley in the fifth position. The Reggae star's income is a result of House of Marley audio equipment and the Marley Beverage Co.
Apart from the legendary stars, three recently deceased musicians also found a place in the list. Tom Petty, who died earlier this month, Prince and David Bowie (both died early last year) are featured in the list.
Petty stands at number six with $20 million, Prince is at number seven with $18 million in earnings, while Bowie is placed at number 11 with $9.5 million. John Lennon is at ninth spot with an earning of $12 million.
Others on the list include Dr Seuss, Albert Einstein, Elizabeth Taylor and Bettie Paige.
| | | | |
| --- | --- | --- | --- |
| Michael Jackson | musician | died 2009 | $75million |
| Arnold Palmer | golfer | died 2016 | $40million |
| Charles Schulz | cartoonist | died 2000 | $38million |
| Elvis Presley | musician | died 1977 | $35million |
| Bob Marley | musician | died 1981 | $23million |
| Tom Petty | musician | died 2017 | $20million |
| Prince | musician | died 2016 | $18million |
| Dr. Seuss | author | died 1991 | $16million |
| John Lennon | musician | died 1980 | $12million |
| Albert Einstein | physicist | died 1955 | $10million |
| David Bowie | musician | died 2016 | $9.5million |
| Elizabeth Taylor | actress | died 2011 | $8million |
| Bettie Paige | model | died 2008 | $7.5million |
Data Courtesy: Forbes