Combat strategy games require patience and planning. Players rack their brains to keep their defences right and in strategic positions, so that it fights waves of enemies. Players need to lay traps and keep upgrading their defences, and will also have to look at upgrading all the resource-producing units.
This will throw a challenge to gamers as they have to balance these elements, and also have to be geared up for attacks. They are also dependent on gathering resources, building up bases and other such features.
Below are top five real-time strategy games for Android devices:
1. Friendly Fire! - Red Robot Labs' Friendly Fire! allows players to build up their bases, which has to guarded by fortifications for conflicts. The player is the commander of his base. The game's maps will be from real-world places, a unique feature. Players will be able to build tanks, scouts, artillery, aircraft bombers, EMP Bots and Harvesters.
Players will have to fight their way up the leaderboard, defeating other players and being the topmost from their city, country and the world. Power-ups are available to increase damage, metal production, oil production, armor, unit building time and tank speed. New skins like desert, Christmas, winter and jungle are also available. Players will also be able to create an Alliance with other players and compete in championship seasons. The game can be downloaded here.
2. Clash of Clans - In this is epic combat strategy game, the player will have to build their village from scratch and form troops. Players will be battling several online players. An army of barbarians, wizards, dragons, archers, looters and ten more different units can be created to fight the enemies around the world and gain victory points. Players will also be able to join clans. On the defense front, players will have to build and upgrade cannons, towers, mortars, bombs, traps and walls. The game can be downloaded here.
3. Castle Clash - Developed by IGG, Castle Clash has more than 10 million players worldwide. Players will have to hire heroes, if they want to become the greatest warloard in the game. Armies consisting of Elves, Dwarves, Beasts, Robots and more can be created, and the game relies on how creative the player is. The game is fast-paced and will have realistic battles. Players will also be able to cast powerful spells. The game can be downloaded here.
4. Fantasy Defense - This game has a huge fan following in South East Asia and Japan region. It has been billed as the Numero Uno strategy game there. This tower defense game introduces an innovative new hero class with RPG elements, and thus making it a unique game. The game has three heroes who will be supported by fighters and mages. They will be fighting enemies by acquiring new armors and skills.
Players must also user their resources wisely to achieve this feat. The game has the forest of darkness, fiery volcano, devil's dungeon, infinite wilderness and the infamous swamp of desire as environments. It has 50 stages, 12 mythical units and three game modes. There are nearly 24 special items that will improve the performance of the heroes. The game can be downloaded here.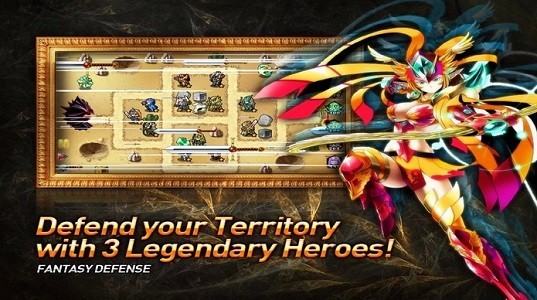 5. Battle Beach - This strategy game allows players to fight out chaotic enemies and help restore law to what is remaining in a civilization. It is is developed by Ember Entertainment. Players will have to build alliances and keep upgrading their base, and also build their troops to battle other online players. Players will also be able to build an army of tanks, snipers and exo-suits and fight the marauders. Players will have 10 different units which are upgradable. Defences for the base include machine gun nests, sniper towers, mine fields, coastal defense laser and walls. The game can be downloaded here.