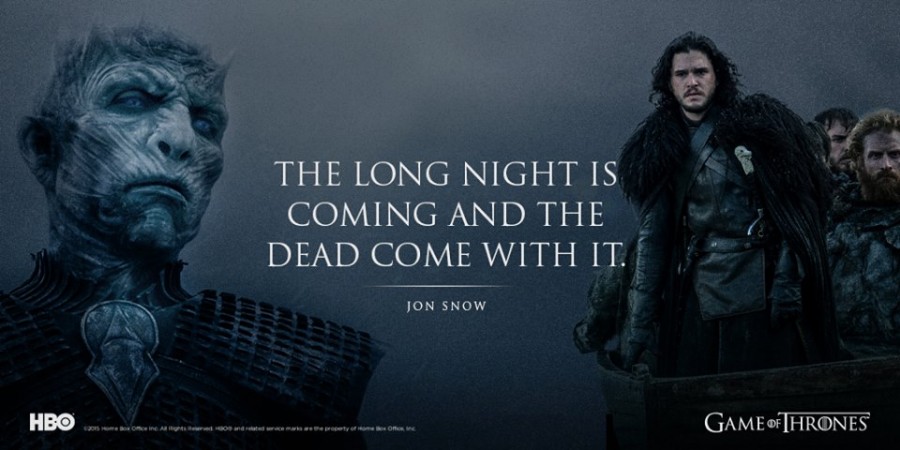 "Game of Thrones" season 5 featured a number of epic moments in the storylines of its major characters such as Sansa Stark, Jon Snow, Daenerys Targaryen and Tyrion Lannister.
At the same time, season 5 also featured a number of plot spoilers from George RR Martin's upcoming book in the "A Song of Ice and Fire" series, titled "Winds of Winter."
Here are three "Winds of Winter" plot spoilers featured in the current season of HBO's "Game of Thrones", which will conclude on Sunday, 14 June.
Shireen's Death:
The penultimate episode of the season saw Stannis burning his daughter Shireen in order to gain more power from the Lord of Light. And according to "Game of Thrones" showunner David Benioff, this scene could be featured in Martin's "Winds of Winter," which will be released before "Game of Thrones" season 6 airs.
"When George first told us about this, it was one of those moments when I remember looking at Dan and I was just like, 'Ugh, it's so horrible, and so good in a story sense because it all comes together'," Benioff said in an Inside the Episode video.
"It's really all come to this. There's been so much talk about King's Blood and the power of King's Blood, and it all leads ultimately, fatally, to Shireen's sacrifice. It's one of the most horrible moments we've shocked just in terms of the emotion."
Tyrion-Daenerys Meeting:
In the HBO series, Tyrion has already met the Mother of Dragons, Daenerys. But the meeting is yet to take place in Martin's world.
"Well, Tyrion and Dany will intersect, in a way, but for much of the book they're still apart," Martin said about Tyrion and Daenerys' storyline in "Winds of Winter," according to Entertainment Weekly.
"They both have quite large roles to play here. Tyrion has decided that he actually would like to live, for one thing, which he wasn't entirely sure of during the last book, and he's now working toward that end—if he can survive the battle that's breaking out all around him. And Dany has embraced her heritage as a Targaryen and embraced the Targaryen words. So they're both coming home."
Confirmation of R + L = J:
Fans of Martin's books will have to wait for the release of "Winds of Winter" for confirmation regarding Jon Snow's parentage. But the show spoiled it in the fourth episode of the season entitled "Sons of the Harpy."
In the episode Lyanna was mentioned and Melisandre also hinted that Jon could have King's blood. Also, when Selyse Baratheon remarks to Stannis that Jon could be the bastard of some tavern slut, Stannis replies: "Perhaps. But that wasn't Ned Stark's way."