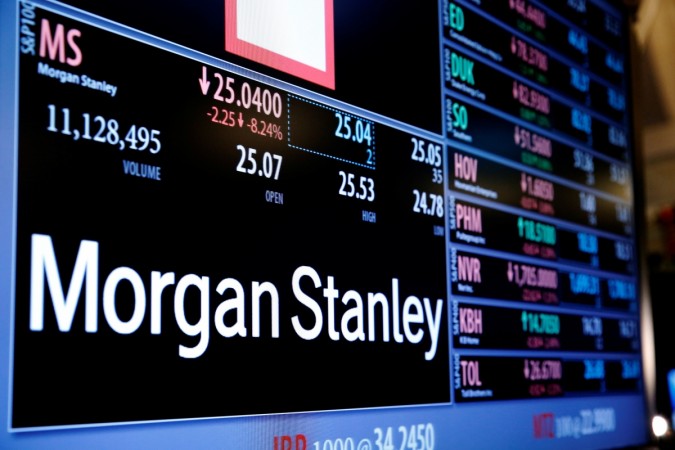 Consistent inflows from foreign investors coupled with increasing domestic fund flow and investments in Indian Exchange Traded Funds (ETFs) will put the focus on India's large liquid companies, said a Morgan Stanley report.
The country continues to gathers more weightage in the MSCI Emerging Market Index as it leads its peers with a 7 percent growth rate. This will attract "large opportunistic flows" into the country which will be searching for the biggest names to invest in, BloombergQuint said, while quoting a report written by Morgan Stanley's Equity Strategists, Ridham Desai and Sheela Rathi.
The report further stated that domestic institutional investors, also see a gain in funds, earlier banked on medium- and small-cap companies to derive their growth. Moreover, with changing proportions, institutions such as mutual funds will look for bigger names within India Inc.
The third reason the report cites to evaluate mega caps is the likely growth in domestic ETFs. Morgan Stanley expects, "ETFs could accumulate $200 billion in assets by 2026 – thirtyfold growth from today's level."
The report predicates on rising provident fund flows. It cites the increase in allocation to equity investments by provident funds - from 5 percent in 2015 to 10 percent in 2016, and 15 percent in 2017. And now expects it to rise to 20 percent. It notes that this flow is directed into equities via domestic ETFs.
ETFs are likely to see their assets grow 30x in the coming decade to $200billion by 2026. From a relatively small size of $100million in 2009, ETF assets have grown to $8.2billion in size in a span of eight years.
Morgan Stanley's lists 14 stocks as mega-cap winners including Bajaj Auto, HDFC Bank, Infosys and Mahindra & Mahindra, Private sector banks and discretionary consumers stocks dominate the list being "most attractive at the current point of time in the cycle."
THE MEGA CAP LIST
Bajaj Auto
BPCL
HDFC Bank
IndusInd Bank
Infosys
Mahindra & Mahindra
Maruti Suzuki
THE "FUTURE" MEGA CAP LIST
Cummins India
JSW Steel
Lupin
M&M Financials
Petronet LNG
UPL
Zee Entertainment
The report clarifies that the call on mega caps does not negate that small- and mid-cap stocks may still outperform large- and medium-cap stocks in the next three to five years.
The report caveats that its stock-picking approach relies heavily on its analysts' forecasts. It also lists other risk factors like, a lengthy global recession, or local government actions that could impede growth, uncertainty in politics and policy, specifically a stable tax regime and positive real rates and lastly a benign outlook on inflation.