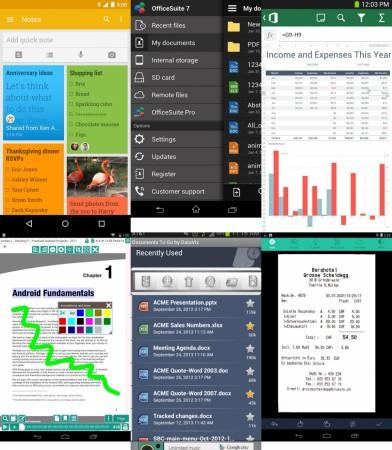 Productivity apps are a must-have for any smartphone. Most of these apps feature real potential to transform your smartphone into a computing tool. Like Microsoft Office or any other free office apps, productivity office apps allow you to read/write/edit various type of documents, convert/compress them, mail across to someone and even create contacts from printed business cards. In the official Google Play Store, most of the popular productivity apps are paid ones, still we found out few great apps that can cater to most of the Android devices.
Polaris Office + PDF
A free to download office app for creating and editing documents, spreadsheets, presentation and Adobe PDF files. The app also allows you to save files in Word, Excel and Powerpoint mode to avoid conflict with desktop office software. Files opened in Polaris Office are saved on your local device automatically, allowing users to read and edit files offline while having a back up saved on the cloud.
WPS Office
WPS Office can open almost any document including PDF and Microsoft Word, PowerPoint and Excel. This means when you use WPS Office to open a document from email or your favourite cloud service, you can be sure it will look exactly the way it would on your PC. Using WPS Office you can access and edit documents from your favourite cloud drive. When you are done with editing, WPS Office will automatically save them back online.
OfficeSuite 8+PDF
OfficeSuite lets you easily view, edit, and create Word, Excel, and PowerPoint documents, convert to/from PDF, and manage your files all with the most feature-rich mobile office solution available for Android smartphones and Tablets. It also includes seamless transition of files between desktop and smartphone, text to PDF conversion, track changes with multiple author support and more.
Docs To Go Free Office Suite
A completely free-to-use document viewing & editing app with utility features like options for connecting to multiple cloud storage accounts, desktop file sync, and opening password- protected files are available via in-app purchase. This app supports document and PDF format files.
Google Keep
An Evernote alternative by Google for taking notes with plenty of handy features like creating voice memo, attach images with the notes, Android wearable support and more. The app comes for free with an impressive looking interface and is a must have app if you need to take notes at a regular basis.
Microsoft Office Mobile
The official Office companion optimized for your Android phone. You can access, view and edit your Microsoft Word, Microsoft Excel and Microsoft PowerPoint documents from virtually anywhere. Documents look like originals, thanks to support for charts, animations, SmartArt graphics and shapes. When you make quick edits or add comments to a document, the formatting and content remain intact.
Image to PDF converter
A simple to use app with a great utility. The app allows you to create PDF files from single or multiple images.
CamScanner
CamScanner helps you scan, store, sync and collaborate on various contents across smartphones, Tablets and computers. The app uses the smartphone camera to scan the notes, documents, invoices, business cards and certificates. The CamScanner also supports Cloud storage service like Box, Google Drive, Evernote and OneDrive for data archival.
PDF Reader
An app for reading PDF and DjVu files on your Android smartphone or Tablet device. The tiny app is easy to download and offers tons of necessary utilities like read and control mode, fix page by width, text search, bookmarks, recent files, thumbernails with a Night Mode feature to strain your eyes less.
WinZip
The free app version most popular file compression tool on Windows allows you to create, extract and email Zip and ZipX files. The full version comes with a DropBox integration and encryption support.