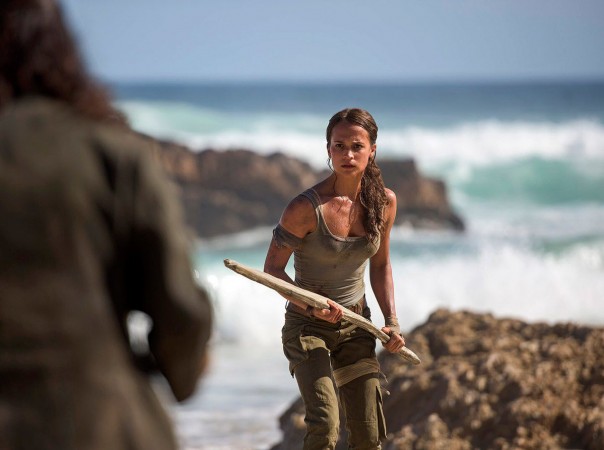 Can this be a better version of Tomb Raider? After Angelina Jolie's turn as Lara Croft that started on the big screen in 2001, the new version of the video game adaptation starring Alicia Vikander has created much hubbub everywhere.
Right from Vikander being body-shamed to her flaws being counted out, the movie has created enough buzz on social media. It releases March 16, 2018.
The official synopsis of Tomb Raider reads—
Lara Croft, the fiercely independent daughter of a missing adventurer, who vanished when she was scarcely a teen. Now a young woman of 21 without any real focus or purpose. From Warner Bros. Pictures and Metro-Goldwyn-Mayer Pictures, Tomb Raider is the story that will set a young and resolute Lara Croft on a path toward becoming a global hero.
Whether you have watched the movie or not, here's a look what the critics are saying about it:
Much of the effectiveness of "Tomb Raider" comes down to a fresh but old-fashioned idea: the decision by Roar Uthaug to shoot a movie that pivots around omens, curses, jade amulets, and Spielbergian rock formations not as a glossy swashbuckling cliffhanger — even though that's what it is — but as a "realistic" thriller that might actually be taking place. Instead of pummeling us with the outlandish, "Tomb Raider" lures us into suspending our disbelief.
The movie stumbles right out of the gate, with an awkward exposition dump, but recovers momentarily as we're introduced to our heroine in her natural urban habitat. Lara Croft (Alicia Vikander) as a penniless but quick-witted bike courier is endearing and entertaining, and here, on the streets of London, the movie gives us its best action sequence and does its best building of Lara's character.
Lara will undergo all sort of Indiana Jones-esque challenges and ordeals, a borrowing so casual and widespread that it's easy to forget that it is actually derivative. There is hardly a stone surface anywhere in the film that will not grindingly reveal a trapdoor, a recessed panel, or a large metal spike – and all with a certain mysterious engineering that provides for a considerable amount of movement without a power source, in the much-loved and time-honored manner.
The latest big-screen iteration of the blockbuster video game isn't a film for the ages, but it's actually pretty good fun; an old-fashioned treasure-island adventure tale gilded in circa-2018 wokeness (Lara Croft's breasts no longer command a lead supporting role) and anchored by an Oscar-winning actress far more gifted than the story requires.
Unfortunately, this Tomb Raider is far too grim for its own good. It borrows heavily from the 2013 reboot of the video game, which was one of the best surprises of the year — a cutting-edge gaming experience that involved the player on several levels, pun not intended.