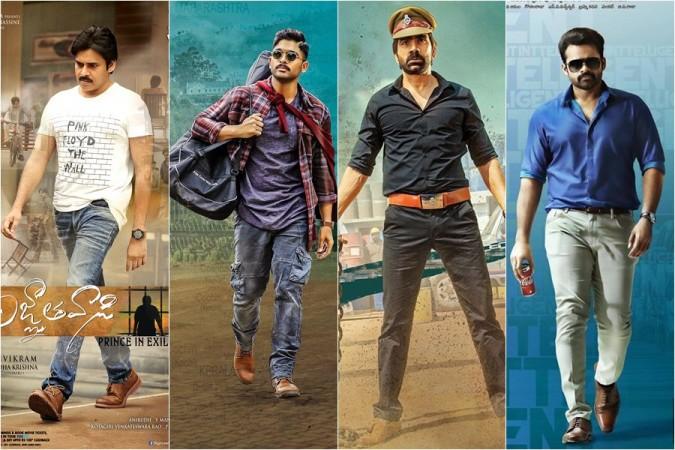 Telugu audience have witnessed a series of big-ticket Tollywood movies turning biggest flops or worst films at the box office in the first six months of 2018.
There were days when star power, commercial ingredients, top director and actresses used to decide the fate of a movie at the box office. But over the years, this trend has been fast changing with the arrival of a new crop of audience, who prefer good content over other aspects.
Thanks to the advancement of the technology, which has not only given easy access to the international movies but also upgraded audience's tastes. Telugu audience have gone to reject a film outright, if it did not have a good script. This has resulted in huge losses for some Tollywood distributors around the world.
The Telugu film industry is estimated to have spent over Rs 500 crore on the production and promotion of over 60 movies in the six months of 2018. The distributors are said to have shelled out nearly Rs 1,000 crore on buying the theatrical rights of these movies. Some films have ended up incurring huge losses to their distributors.
Agnyaathavaasi is undoubtedly biggest disasters of this year with its distributors suffering huge losses of Rs 67.50 crore. It is considered as the worst movie of the year. Hero Pawan Kalyan, director Pawan Kalyan and producer S Radha Krishna were forced to compensate their losses.
Inttelligent, Naa Peru Surya Touch Chesi Chudu, Nela Ticket, Krishnarjuna Yudham and Chal Mohan Ranga are other worst and big flop Telugu movies of the year. These movies have collectively incurred a loss of over Rs 100 crore its distributors. The producers of these movies have reportedly settled the losses of some distributors.
Here are the 10 flop / worst Tollywood / Telugu movies released in the first six months of 2018. The numbers mentioned here are based on various reports and they may not match with exact ones. All the figures are in Rs, crore and percentage.
| | | | | | | |
| --- | --- | --- | --- | --- | --- | --- |
| Rank | Movie | Gross | Earnings | Rights | Recovery (%) | Loss |
| 1 | Agnyaathavaasi | 94.60 | 57.50 | 125.00 | 46.00 | 67.50 |
| 2 | Inttelligent | 8.00 | 3.65 | 27.00 | 13.50 | 23.35 |
| 3 | Naa Peru Surya | 100.50 | 54.00 | 75.00 | 71.30 | 21.00 |
| 4 | Touch Chesi Chudu | 19.00 | 9.35 | 25.00 | 37.40 | 20.65 |
| 5 | Nela Ticket | 20.10 | 10.00 | 22.00 | 44.80 | 12.00 |
| 6 | Krishnarjuna Yudham | 28.60 | 15.20 | 26.00 | 58.6 | 10.80 |
| 7 | Chal Mohan Ranga | 18.00 | 9.00 | 20.00 | 43.00 | 11.00 |
| 8 | Officer | 2.80 | 1.19 | 10.00 | 11.90 | 8.81 |
| 9 | MLA | 17.50 | 9.30 | 11.10 | 83.10 | 1.80 |
| 10 | Kirrak Party | 14.40 | 6.75 | 8.00 | 84.40 | 1.25 |