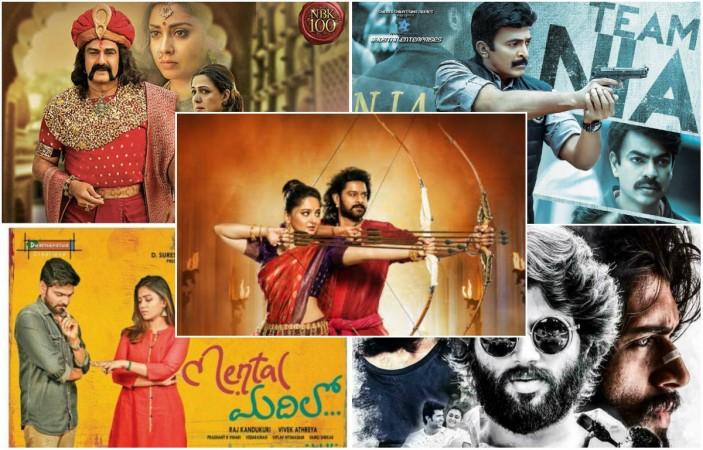 Moving away from its formulaic cinema, Tollywood in 2017 has delivered some really good movies: Baahubali 2, Gautamiputra Satakarni (GPSK), Arjun Reddy, PSV Garuda Vega, Mental Madhilo have not only made good money at the box office, but also changed the trends in the Telugu film industry.
Of late, Telugu cinema was caught up in the web of 'masala' entertainers that are a cocktail of punch dialogues to elevate star power, gravity-defying action, outdated comedy sequences, illogical romance, and untimely songs. These films had little to do with the writing new content and carving out new characters. Even though many movies were made in such tried and tested patterns, box office success was still not a sure shot.
The quality of filmmaking kept degrading and the National Film awards and screenings at international film festivals became a pipe dream. However, a ray of hope has come now with a slew of new storytellers.
At a time when the audience has given up hope and started looking towards other language movies for new and engaging content, a fresh crop of filmmakers with innovative ideas started showing up.
It all started with SS Rajamouli's landmark films — Magadheera (2009) and Eega (2012) — which grabbed many eyeballs in the national and international markets. But it was his 2015 film Baahubali: The Beginning, which went on to break the limits of regional cinema in terms of market and filmmaking grandeur. Since then, the other directors also started thinking beyond the existing stereotypes of filmmaking.
But the year 2017 can be considered a transitional period in the contemporary Telugu cinema for two main reasons. Firstly, many filmmakers preferred content and creativity over commercial ingredients and star craze. Secondly, a considerable shift is observed in kind of cinema Telugu audience embraced.
The films that received critical acclaim also performed well at the box office while some also caught the attention of filmmakers across the country.
Below, check out the list of movies that helped in setting new trends:
Baahubali 2: Baahubali: The Beginning led to the million dollar question – "Why Kattappa killed Baahubali?". Expectations touch the sky for the second part of the SS Rajamouli directorial burdening the hitmaker to reach the hype. Post its release, Baahubali: The Conclusion went on create history at the worldwide box office.
Gautamiputra Satakarni: This is a limited budget action extravaganza, which is the 100th movie of Nandamuri Balakrishna and stunned many filmgoers across the globe. Director Krish, who won many accolades for Kanche, has surprised everyone with his amazing storytelling and great technical values which were on par with Hollywood.
Arjun Reddy: Though it's not a never-seen-before romance drama, Sandeep Vanga's brilliant narration and Vijay Deverakonda's superb acting pumped life into the script. Made on a small budget, the movie went on to become a blockbuster success and is being remade in Hindi, Tamil and other languages.
PSV Garuda Vega: It is a medium budget spy thriller, which marked the comeback of Rajasekhar. Its technical finesse and Praveen Sattaru's edge-of-the-seat narration surprised many filmgoers and critics across the globe. Besides winning critical acclaim, the film also turned out to be a commercial success.
Mental Madhilo: A coming-of-age romance drama where everyday intricacies of life are told beautifully with sharp observations. The movie was a box office success.