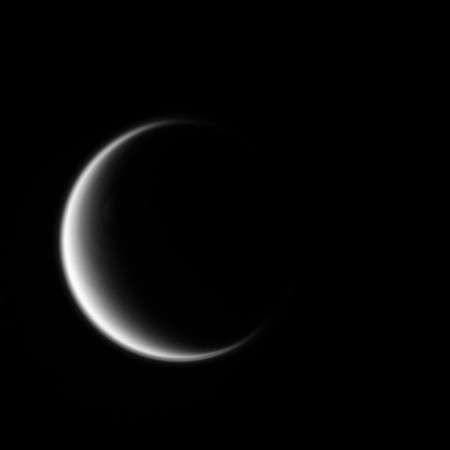 Saturn's largest moon, Titan, is also the only moon known to have a dense atmosphere, comprising of mostly nitrogen. It is the only celestial body, other than Earth, to have stable bodies of surface liquid.
Titan has a diameter of 3,200 miles (5,150 kilometers), making it almost 50% larger than Earth's moon, which has a diameter of 2,158 miles (3,474 kilometers). The temperature there is minus 290 Fahrenheit (minus 179 degrees Celsius), according to space.com.
Methane is thus found there in its liquid form, while water becomes as hard as a rock.
Last year, a new research published in the journal — Science, stated that Titan had undergone a Mars-like evolution.
Researchers at the Massachusetts Institute of Technology (MIT) had studied the river maps of Titan, Mars, and Earth and concluded that the satellite's topography is more similar to the red planet than our planet.
"While the processes that created Titan's topography are still enigmatic, this [research] rules out some of the mechanisms we're most familiar with on Earth," said Benjamin Black, who is the lead author of the study and former MIT graduate student, according to the space.com.
Saturn's moons have been baffling scientists for quite some now. A recent study suggested that methane found on Saturn's moon Enceladus — the sixth-largest moon of Saturn — could be a byproduct of alien activities.
Researchers carried out an experiment on some hardy microbes, which can survive extremely tough conditions like the freezing environment of Enceladus. They observed these microbes were feeding on hydrogen to produce a biological byproduct, which is methane.
Similarly, researchers, after studying spectroscopic data collected by the Atacama Large Millimeter/submillimeter Array (ALMA) in northern Chile, suggested that the moon's unique environmental conditions can make, in theory, vinyl cyanide, which is in abundance in Titan's atmosphere, to form "cell-like" membranes.
Life-supporting planetary object or not, Titan has enigmatic topography and unique atmosphere and climate, which have always thrilled scientists.
Here are some pictures of Titan captures by the Cassini mission: