Following the recent notification by the union environment ministry banning the sale of cattle for slaughter, beef protests in Kerala have begun and continue to ruffle many feathers across the country. But, if in the past it was the BJP-led central government that got discomfited with the beef fests, now, there seems to be an unlikely backer, Times Now.
The channel has come out in the open to vilify the southern state for its stand but in doing so crossed the limits of decency. While reporting on the arrival of BJP national president Amit Shah to Kerala, the channel, whether by design or default, has stirred a controversy by calling the state 'Thundery Pakistan'. While it's not clear what has provoked the channel to compare the events in the state to those of Pakistan, Keralites have not taken it kindly.
The social media has been abuzz with the hashtags #TimesCow and #boycottTimesNow. Interestingly, a screenshot showing TimesNow apologising for calling Kerala Pakistan has also been doing the rounds. However, International Business Times India could not verify its authenticity as Twitter and Facebook pages of the channel do not carry the same. A petition seeking strict action against the channel for instigating hatred towards the people of Kerala has also been initiated via Change.Org.
This is not the first time the state has rallied to show their anger.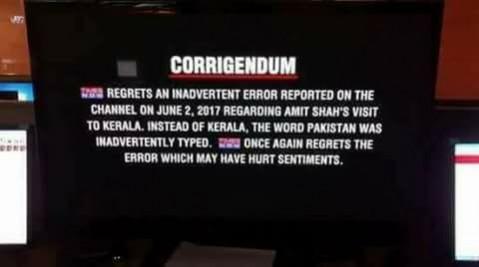 It may be recalled that Prime Minister Narendra Modi compared Kerala to Somalia during an election rally in May 2016. He became a subject of mockery for Twitter users as they used the hashtag #PoMoneModi, with "po mone" translating to the colloquial "Go back, son."
Following the trend, Amit Shah has also now been welcomed to the state with the hashtag #AlavalathiShaji (also spelt #AlavalathyShaji), reminding the famous dialogue "Ne alleda alavathi Shaji?" (Aren't you the uncouth Shaji?") of late Malayalam actor Jayan.
Kerala chief minister Pinarayi Vijayan was the first to raise voice against the recent cattle slaughter ban pointing out to the adverse effect it would have on the farmers and other ancillaries.
Here are how netizens reacted to Times Now's 'Thundery Pakistan' dig at Kerala
If you think that @timesnow using Pakistan instead of Kerala was a typo, you have no idea about the evil nature of the channel #TimesCow

— Hypocrisy Watch (@bigotry_watch) June 3, 2017