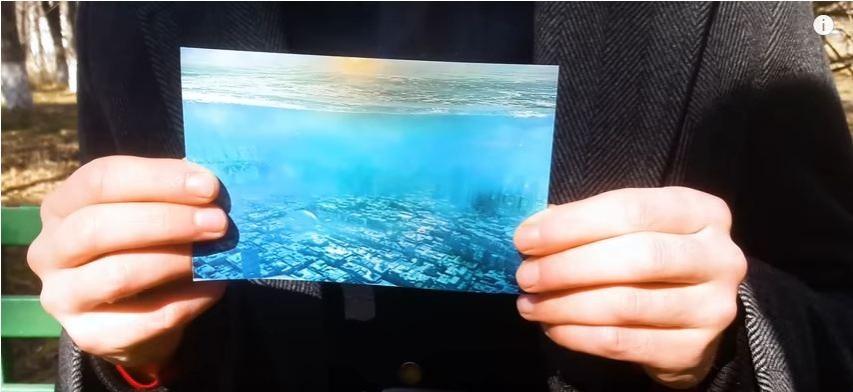 Time travel makes for fascinating plots for sci-fi movies and books, but whether it's actually possible is still a question. However, a number of self-proclaimed time-travelers have come forward to share their stories from time to time. Recently, one such "traveler" claimed to have brought back a picture from the year 5000 as "proof".
The man, who identified himself as Edward, gave a secretive interview where his face is hidden and voice distorted. He talked about his experience and what led him to "time-travel". In the video posted on ApexTV, Edward claimed to be a part of part of a top-secret experiment in 2004 which gave him the chance to travel through time.
While explaining it, he is seen in the video pulling out a photo from his jacket that he said was taken 3,000 years in the future, apparently showing Los Angeles deep under water.
Edward said: "I will tell you a story which will amaze you and you will be astonished." He was working in LA in a laboratory when he was offered an assignment to go to the future and take pictures, he said.
"I appeared to place. It was unbelievable. I was standing on a huge wooden platform. Not only me, houses, building or course all made from wood. And after, I realized it was the same city, Los Angeles, but underwater," he said.
Edward went on to explain that he got to know from the people there that the city was under water after the flood that happened due to global warming. He claimed that the world went under water after the ice caps melted.
This recent "revelation" came a week after Noah – another self-proclaimed time-traveler who claims to be from the year 2030 — passed a lie-detector test while he made a series of shocking predictions for humanity.
Recently, another man called Alexander Smith also claimed to have traveled to the future — to the year 2118 — and showed a photo that he said he took when he was there. He also claimed to have made frequent trips back and forth as part of a secret CIA mission in 1981. Alexander said he was putting his life at risk by revealing the details of his "travel".