In an unexpected incident, Time magazine has called Indian Prime Minister Manmohan Singh as an "underachiever", while noting that the country's economical growth has considerably receded and suggested that the nation requires a reboot.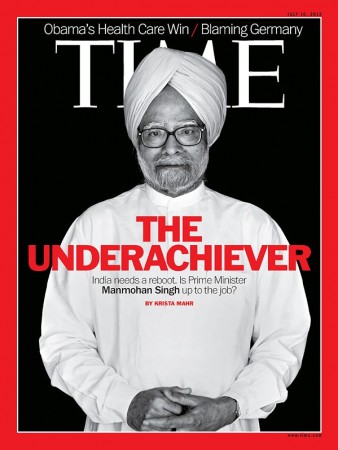 Manmohan Singh has been featured on the cover photo of the Time magazine for July 16 Asia edition, which has dubbed the Prime Minister as "underachiever", while criticising him for not taking the country forward by implementing major economical reforms. [Read: Thackeray Calls PM Singh 'Politically Impotent']
The Time magazine also pulled up Congress-led UPA-II government for allegedly wasting past three-years of its rule.
Further, the article has opinionated that the Centre being neck-deep in mire of corruption was busy in fighting the allegations against it and was not pushing in needed policy reforms. "The UPA collation has found itself fending off corruption scandals and accused of showing a lack of economic direction," said an article under the title of 'A Man in Shadow.'
Commenting on the prevailing policy paralysis the article on Time said, "The laws that could help create growth and jobs are stuck in Parliament, sparking concerns that politicians have lost the plot in their focus on short-term populist measures that will win votes."
The article also said that Manmohan Singh revived the economic situation in the country and has a important role in liberalising the Indian economy. However, the articled accused him of not carrying on operations to maintain that economic stability. "In the past three years, the calm confidence he (Singh) once radiated has been absent. He seems unable to control his ministers and his new, temporary portfolio at the Finance Ministry notwithstanding unwilling to stick his neck out on reforms that will continue the process of liberalisation he helped start," observed the author of this article.