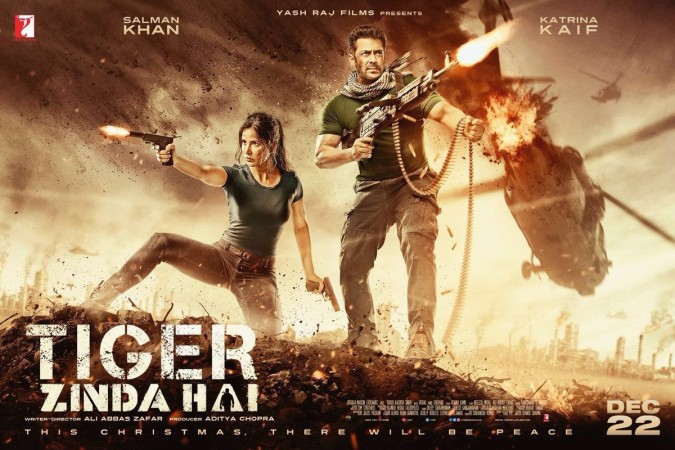 The trailer of Salman Khan's Tiger Zinda Hai has taken YouTube by storm and shared the record of Baahubali 2. The movie, however, has failed to surpass the benchmark set by Deepika Padukone's Padmavati.
The trailer of Tiger Zinda Hai was released on the official YouTube channel of Yash Raj Films late on Monday. The video had stirred up a frenzy among the viewers and gone viral on social media. It received a superb response with its view count crossing 13 million on YouTube in 24 hours.
Tiger Zinda Hai has shattered the record set by the Hindi version of Baahubali 2. Its trailer has got 11,210,172 views on YouTube in a day. But the movie failed to beat Padmavati, which has the most watched trailer on YouTube in a day with a view count of 15,258,415.
The trailer of Tiger Zinda Hai continued to storm the YouTube on the second day of its release and surpassed the mark of 20 million views. The video has 21,368,812 views, 580,000 likes, 40,000 and 68,377 comments so far (36 hours).
The trailer of Padmavati had registered 24,412,171 views, 422,000 likes, 38,000 dislikes and 48,673 comments in 36 hours and these are the highest numbers for the trailer of a Hindi movie. The trailer of Tiger Zinda Hai has received a better number of likes and comments than Padmavati, but it has failed to beat the latter's record of views on YouTube.
Padmavati was released the YouTube channel of Viacom18 Motion Pictures, which has around 589,000 subscribers. On the other hand, the YouTube of YRF, which released the trailer of Tiger Zinda Hai, has 6.2 million subscribers. Considering these numbers, the trailer of Tiger Zinda Hai could have been a bigger hit than Padmavati.
The trailer of Tiger Zinda Hai offers a glimpse at its story is about Tiger and Zoya, who are sent on a mission to battle an international terrorist organisation which kidnaps 25 Indian nurses for ransom.
The story and Salman Khan's dare-devil stunts have created a lot of curiosity about Tiger Zinda Hai, which is scheduled for release on December 22 as a Christmas treat for film-goers.