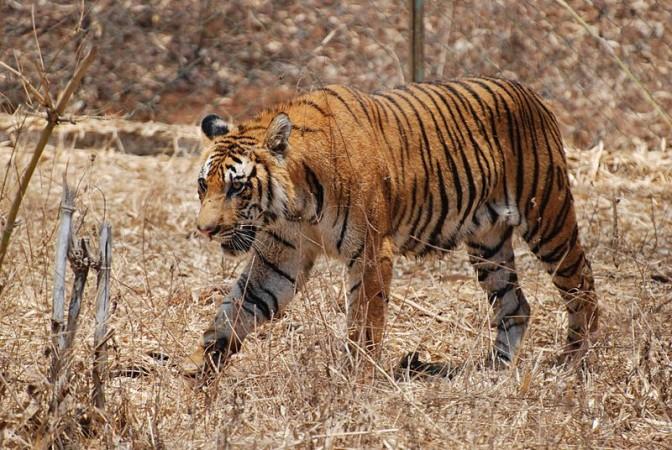 The number of tigers in the wildlife sanctuaries of Uttar Pradesh may be on the rise, according to a new census, conducted with the help of camera traps.
While the current census is still ongoing, the census of 2010-11 showed that there were 118 tigers in the Dudhwa Reserve. These findings have been forwarded to the Union Ministry of Environment and Forest Screening.
"The final count this time round might be around 125 (in the Dudhwa Reserve)," said Rupak De, Principal Chief Conservator of Forests (wildlife), in UP.
The three main tiger reserves in UP cover a total area of 1,684 square kilometres, according to a report by The Times of India. Out of this, the Dudhwa Tiger Reserve has 884 square kilometres, the Pilibhit Tiger Reserve has 720 kilometres, and the Amangarh Tiger Reserve has 80 square kilometres.
The census also showed that the amount of land under the tiger reserves in the whole of UP has increased from 2,766 square kilometres in 2008 to 2,948 in 2010. Although the total area of tiger reserves in UP in the latest census in not known yet, it is believed to have crossed the 3,000-mark quite some time back. Many believe that this may be one of the reasons why the numbers of tigers have shown a rise recently.
Also, this time round, a new camera-trapping technique has been use to count the number of tigers at the Dudhwa National Park, the Kishenpur National Park and the Pilibhit Forest Division.
In this camera-trapping technique, a pair of cameras was installed every 1.6 kilometres in the areas of the forests, which experts believe to be 'core areas'. These cameras were also installed at a low height, so that it could get the images of the cubs, if there are any. Many believe that the sudden increase in the tiger population numbers in the state is mainly due to these cameras, which are now seen as a better way to conduct these kinds of surveys.
The cameras have successfully captured at least 382 pictures at the Dudhwa and the Kishenpur National Parks alone. However, officials believe that many of the pictures could be repetitions of the same tiger, which is why they need to be properly analysed, before putting forth an official figure.