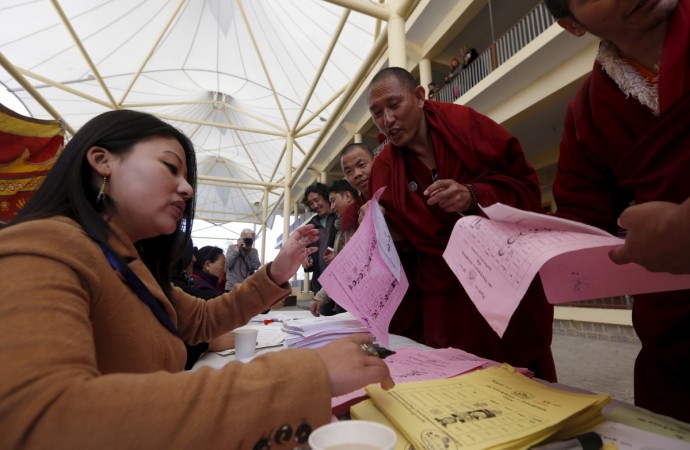 Thousands of Tibetans living in exile in India voted Sunday in Himachal Pradesh's Dharamsala to elect their new "Sikyong" (prime minister) and the 44-member parliament-in-exile. This was the second election since the Dalai Lama relinquished his post as the head of the exile government of Chinese-ruled Tibet in 2011.
Exiled Tibetans, including monks and nuns, lined up from 9:00 a.m. to vote for the new leader of the Central Tibetan Administration (CTA), a governing body based in Dharamsala and representing thousands of exiled Tibetans. The CTA is not recognised by the international community.
"Though His Holiness the Dalai Lama remains our leader of the nation in terms of guiding us in solving the Tibet issue, it is important that we vote and elect our political leader," Agence France-Presse quoted a 45-year-old monk as saying.
Voters are voting for candidates Penpa Tsering and incumbent Prime Minister Lobsang Sangay, who is running for the second election. India-born Tsering has been in the parliament for 10 years now.
Voting was also held in Nepal, Bhutan, Taiwan, Japan, South Africa, Australia, America and Europe, where thousands have been living in exile.
A dialogue with China for autonomy
Sangay Sunday called for a dialogue with China for the regional autonomy of Tibet.
"The dialogue (with China) will be the main initiative. I hope Chinese President Xi Jinping in his second term in 2017 will look at the Tibetan issue and take the initiative" and talk to exiled Tibetans, the Associated Press quoted Sangay as saying.
China, which does not recognise the CTA as a governing body of Tibet, asked other countries not to support Tibet's government-in-exile. It has not held talks with members of the CTA since 2010.
"We never recognise this so-called government-in-exile. We hope that all countries in this world, especially those that want to maintain friendly relations with China, will not provide facilities or venues for any anti-China, separatist activities by the so-called Tibet independence forces," Chinese foreign ministry spokesman Lu Kang said.
The 14th Dalai Lama fled Tibet and took refuge in Dharamsala after a failed uprising against the Chinese rule in 1959. As many as 80,000 Tibetans too came along with him and settled in India, Nepal and Bhutan.
According to Planning Council's 2007 data, the population of exiled Tibetans has reached 1,01,242 in India, according to the Office of Tibet - Pretoria.