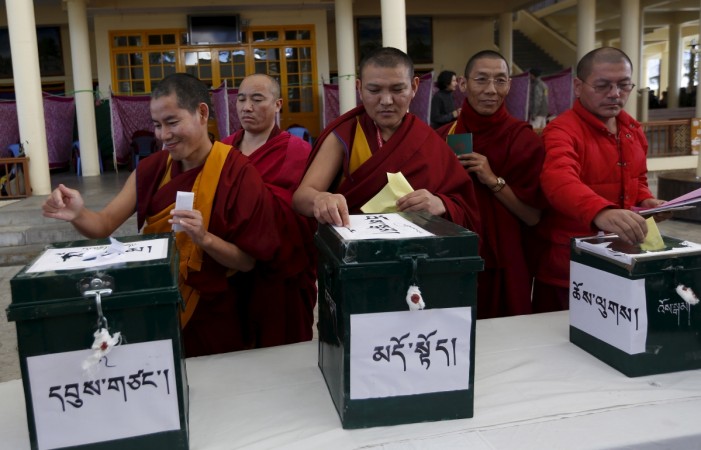 The incumbent political head of the Tibetan government in exile is leading in the vote count following last week's elections for a new parliament, an official of the Central Tibetan Administration's election commission told International Business Times India. Nearly 90,000 Tibetans living in exile had cast their votes across the world.
However, the opponent of Lobsang Sangay, the Tibetan prime minister-in-exile, or "Sikyong," was leading in the important settlement of Dharamshala, which is the residence of the Dalai Lama and the political headquarters of exiled Tibetans, according to the Tibet Sun. According to the report, while Sangay was leading by nearly 7,000 votes as of Saturday, he fell behind rival Penpa Tsering, who is the speaker of the Tibetan parliament in exile, by about 500 votes in Dharamshala. The Tibetan news portal reported all the votes in India had been counted.
Elections were held for Tibetans living in exile in India, Nepal, Bhutan, Taiwan, Japan, South Africa, Australia, America and Europe, with votes cast across 59 polling booths.
This is the second such election since the the 14th Dalai Lama resigned from his political role in 2011. The spiritual head of Tibetans, along with thousands of his followers, had fled Chinese rule in 1959, and settled in India from where he ran the government in exile. However, the 80-year-old relinquished his political duties in a bid to ensure the Tibetan movement sustained even after him.
While countries do not officially recognise the Tibetan government in exile and the elections for it, Tibetan officials said it did not affect the process.
"Whether the election of the Central Tibetan Administration is recognised by the international community is entirely up to them," Tenzin Norbu, deputy secretary of the Tibetan government's election body, had told IBTimes India.
The final results of the Tibetan government-in-exile's elections will be declared April 27.