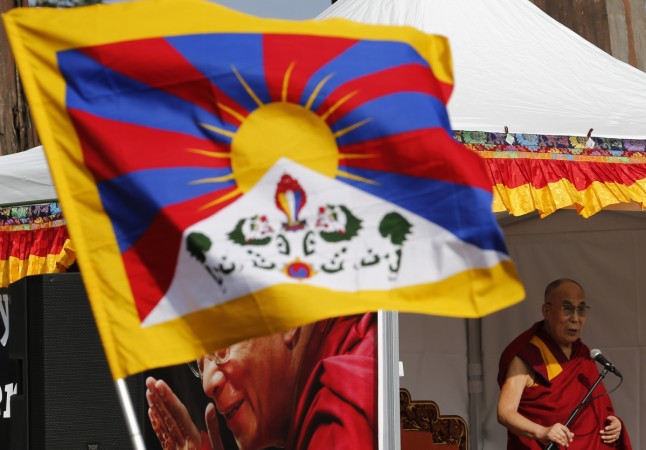 Nearly 90,000 Tibetans living in exile around the world, including in India, Nepal, and as far as in the United States, Australia and Europe will cast their votes Sunday to elect a new Tibetan Parliament in exile and a political leader they call "Sikyong." This is the second such election since the devolution of political power by the Dalai Lama in 2011.
"The election will be held in many places around India, Nepal, Bhutan, Taiwan, Japan, South Africa, Australia, America and Europe. The appointed regional election officers and members decide the polling booth and people living around that area will cast their votes," Tenzin Norbu, deputy secretary of the Central Tibetan Administration's election commission, told International Business Times India via email.
The 14th Dalai Lama, the spiritual head of Tibetans, and thousands of his followers had escaped to India from Chinese rule in 1959, years after Tibet fell under China's control in 1950, and ran the government in exile from India.
However, in 2011, the Dalai Lama resigned from his political role, and the powers were shared by the executive, legislative and judiciary bodies of the Tibetan administration. Sunday's voting will help elect the "Sikyong," with incumbent leader Lobsang Sangay also standing for election.
"The Dalai Lama has given full democracy and freedom to the Tibetans to choose their leader," Norbu said.
Tibetans in India got their first right to exercise their votes in national elections in 2014, following a a 2013 court order that granted Indian citizenship to Tibetan refugees born in India after Jan. 26, 1950 and before July 1 1987, according to the Guardian
The community's internal elections come weeks after a 16-year-old Tibetan student in India died this month after setting himself on fire in protest of China's rule in Tibet. The Tibetan election official did not wish to comment on the challenges for the new leader, one of which is likely to be discouraging any further self-immolation, as pointed out by Reuters.
Another issue is that of the acceptance of the elections by the international community, especially since countries do not officially recognise the Tibetan government. But for the community, the elections are the means to select their political leadership, which they consider legitimate.
"Whether the election of the Central Tibetan Administration is recognised by the international community is entirely up to them," Norbu said.
Voters, however, have expectations of winning international recognition for their cause and of pushing negotiations with China.
"I want the new political leader to stress on stronger negotiations with China over freedom for Tibet. However, I know we do not not have the power to change anything until the Chinese government relents," Ngawang Tenpa, a 24-year-old student from Dehradun, told IBTimes India, adding he will cast his vote Sunday.