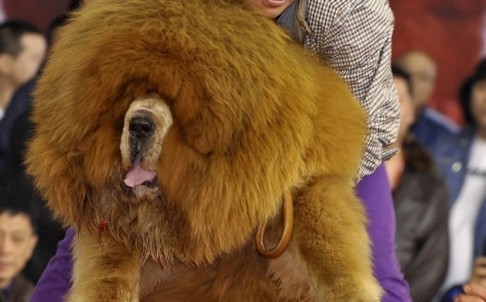 A golden haired Tibetan mastiff has reportedly been sold for a $2 million, thereby making it world's most expensive dog ever sold.
The puppy was sold in a luxury pet fair in the Eastern province of Zhejiang.
The buyer, a 56-year-old property developer has offered the whooping amount to the breeder, who reportedly told that the dog has lion's blood. The buyer from Qingdao hopes to breed dog himself, according to the report.
"They have lion's blood and are top-of-the-range mastiff studs," said breeder Zhang Gengyu to the Qianjiang Evening News. Another red-haired canine was also sold for a 6 million yuan in the pet fair.
Tibetan mastiff, the ancient breed of dog, are ferocious and their huge size makes them resemble more like a lion than a canine. The hound is 31 inches tall and weighed about 90 kilograms, according to Zhang.
Tibetan mastiffs with long coats have throughout been a status symbol among the wealthy classes of China. The size and the rareness of the breed have made the animal a huge prized possession among wealthiest Chinese people. "Pure Tibetan mastiffs are very rare, just like our nationally treasured pandas, so the prices are so high," the breeder added.
One red mastiff named 'Big Splash' was reportedly sold for US $1.5 million in 2011 and was the most expensive dog sold then.
Last year in a fair at Beijing, an animal was sold for 27 million yuan. But a person named Xu, an industry insider, reportedly told the newspaper that the huge price may be an inside agreement among the breeders in order to boost their dog's worth.
"A lot of the sky-high priced deals are just breeders hyping each other up, and no money actually changes hands," Xu added.