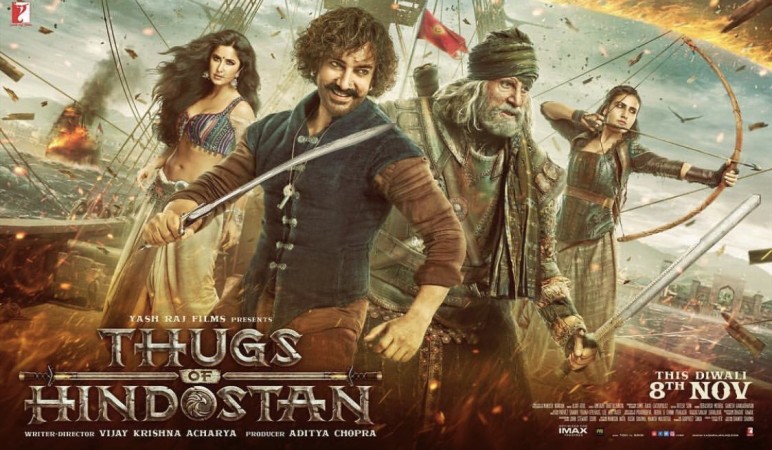 The trailer launch of Yash Raj Films' biggest film yet, Thugs of Hindostan, will take place on Yash Chopra's 86th birth anniversary on September 27. As a tribute to the late acclaimed filmmaker Yash Chopra who was born on September 27, 1932, the studio built by him will have a grand trailer launch of its mega film Thugs of Hindostan. The stars of the movie, Amitabh Bachchan, Aamir Khan, Katrina Kaif and Fatima Sana Shaikh along with the director Vijay Krishna Acharya will be present at the launch.
The Thugs of Hindostan trailer launch will be held at IMAX Carnival Cinemas in Wadala, Mumbai, at 10 am IST on September 27. The biggest event of its kind aims to give a great cinematic experience of the grand movie, which is in the league of Hollywood film series Pirates of the Caribbean.
Thugs of Hindostan is based on the book Confessions of a Thug, and the movie promises to be a spectacle. in fact, the trade is predicting that the movie will break all box office records, since it is a lavish commercial film with megastars and also because it will release during the festival of Diwali on November 8, 2018.
The motion posters of Thugs of Hindostan with details of its lead characters have released one by one over the past two weeks and have managed to create a lot of buzz as a countdown to the trailer launch. Here are the main characters of Thugs of Hindostan:
Aamir Khan plays Firangi, the entertaining but cunning pirate
Katrina Kaif is Suraiyya, the dancer
Fatima Sana Shaikh as Zafira, the bow and arrow combat fighter
Amitabh Bachchan as Khudabaksh, Commander of the Thugs
Lloyd Owen as the villain John Clive
Katrina Kaif had by mistake given out the trailer launch date of Thugs of Hindostan as September 27, but it was the correct date and fans are all geared up to see a glimpse of the extravagant film by YRF.
Thugs of Hindostan teaser
Thugs of Hindostan releases on November 8, 2018, on the Diwali holiday. Watch this space for the Thugs of Hindostan trailer review by IBTimes.