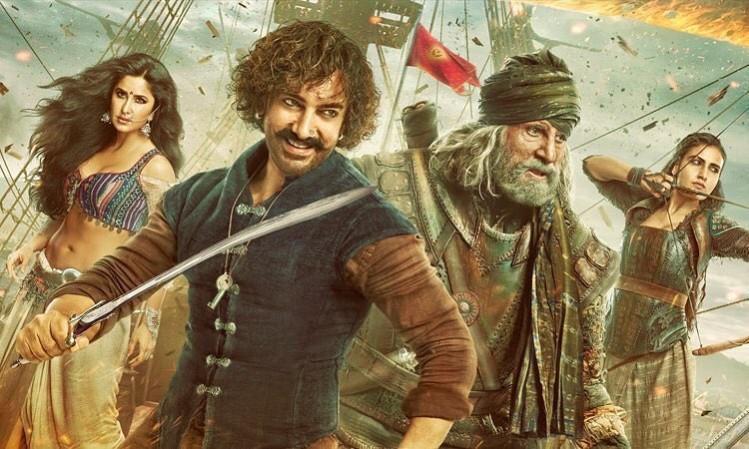 Aamir Khan's Thugs Of Hindostan (Thugs Of Hindustan) has burned a hole in exhibitors' pockets as they have incurred heavy losses due to film's poor performance at the Indian box office. Only the sub-distributors, who distributed Yash Raj Films' period drama on a commission basis, have managed to earn profit due to the minimum guarantee contracts.
The exhibitors, who have now gone into a mental trauma, are hoping to get compensation from Aamir Khan and YRF having lost out on over 50 to 60 per cent of their investments. According to the trade sources, the exhibitors have suffered higher losses on Thugs OF Hindostan as compared to that of Salman Khan's Tubelight.
"We had lost a similar amount on Tubelight as well, however Salman Khan refunded us the money. We plan to approach our territory distributors to claim refund because we know that they have made ample monies from this film due to the minimum guarantee contracts. We hope our message reaches out to Aamir Khan and YRF, who will help us get back our money from the territory distributors," a trade source was quoted as saying by Bollywood Hungama.
In the aftermath of the catastrophic performance of Thugs Of Hindostan at the box office, exhibitors across the country are now shying away from buying upcoming films - Rajinikanth and Akshay Kumar starrer 2.0, Shah Rukh Khan's Zero and Ranveer Singh's Simmba - on minimum guarantee clause.
"No exhibitor across India is ready to buy #2point0 #Zero & #Simmba on minimum guarantee clause cuz of the hefty loss they suffered from #ThugsofHindostan . As said earlier many exhibitors have incurred humongous loss & many could shut down their theaters after debcale of Thugs," trade analyst Sumit Kadel tweeted.
As the producers too have lost ample money from their pockets, they will now be hoping to rake in moolah from the China market. The film will release there next month.
Thugs Of Hindostan which was initially released across 5000 screens in India have now been reduced to 1800 screens across the country. After a disastrous first week, Aamir Khan's film has minted a mere Rs 5.40 crore in its second weekend. The total movie business now stands at Rs 145.95 crore (inclusive of collection from Hindi, Tamil and Telugu circuits) after a run of 11 days at the box office.