Shooting of Thugs of Hindostan is still going on, and the makers of the big movie are yet to take off any promotional activities for the film. However, some fans are cashing on huge views on YouTube by making fake Thugs of Hindostan trailer.
The official trailer of Aamir Khan's Thugs of Hindostan will take some time to come out, as not even first look of the film has yet been released. But, there are a couple of videos on YouTube that are fetching huge numbers of views by claiming to be official trailer of the film.
If one types "Thugs of Hindostan trailer" on YouTube, the first video that appears is a 2 minute 57 second-long clip with the title, "Thugs of Hindostan | Official Teaser #2 | Amir Khan | Amitabh Bachchan | Releasing on 07 Nov 2018".
It was posted just 2 weeks ago, and has already garnered over six million views. The cover picture of the video shows Aamir Khan and Amitabh Bachchan in a very unconventional avatars. The thumbnail also features Katrina Kaif and Fatima Sana Sheikh.
The comments section of the video has been disabled as it is likely to receive some unpleasant comments as well for being fake. The video is a mix of several movie clippings that gives it a look of a period drama.
It is not the only video that claims to be the trailer. There are a number of such other fake videos that have received millions of views.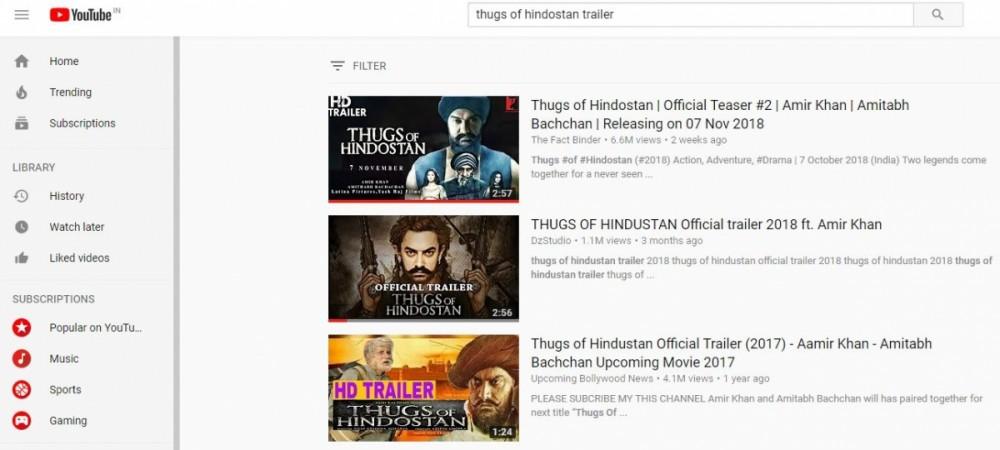 Thugs of Hindostan is believed to be the biggest release of 2018, and the craze among fans suggests the same. People are extremely curious to get a glimpse of the film. Hence, these fake videos have been getting such huge views. Earlier, a number of pictures of Aamir and Amitabh from the sets of the film were leaked online that had made fans even more excited.
Directed by Vijay Krishna Acharya, the period drama is based on the novel Confessions of a Thug. It is slated to be released on November 7 this year.