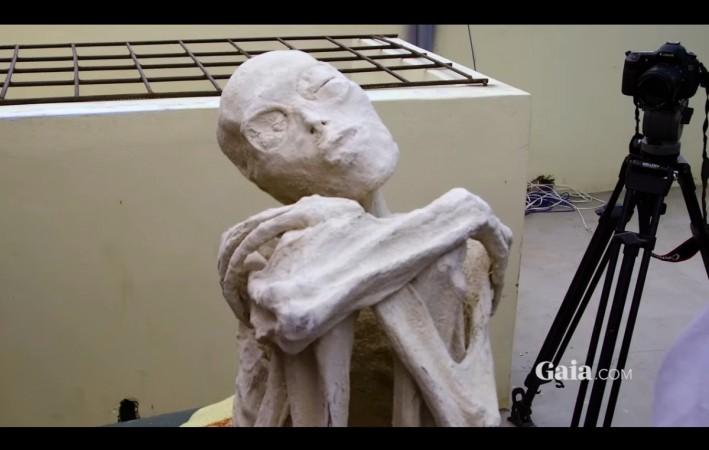 The weird three-fingered mummies which were discovered a few months ago near Nazca lines in Peru are once again making the headlines as a new research conducted by a British researcher has revealed that these mummies might be a new species of humans.
Using DNA and carbon testing, British researcher Steve Mera and his team found that these mummies are at least 1,800 years old. The test results also revealed that the mummy was 98.5 percent "primate" and 1.5 percent "unknown", a similar genetic makeup found in modern-day human beings.
Last July, Steve Mera and his colleague Barry Fitzgerald flew to the South American country and analyzed Maria, an ancient mummy with three fingers and an elongated head. During the research, Steve and Barry found that Maria had all her organs like a normal human being.
However, researchers found some incredible features in Maria including canine teeth, absence of ears and horizontal dermal ridges.

After the findings, Steve Mera revealed that his new discovery could alter the history books forever.
"We can confirm that we have evidence that the Maria body constitutes an incredible discovery. A discovery that may cause us to alter our history books forever. She could be the most important discovery of the 21st Century," said Steve Mara, Express.co.uk reports.
Mera also revealed that his new finding could disprove many unscientific claims made previously stating that these mysterious mummies had an extraterrestrial origin.
"The bodies are degenerating fast. There are a number of other parties hellbent of convincing the general public that all the bodies represent living and breathing hybrid reptilian aliens. This is simply not true and must end," added Steve Mera.
A few months back, Dr Konstantin Korotkov, a professor of Computer Science and Biophysics at Saint-Petersburg Federal University conducted similar studies on the three-fingered mummies and found that they are not of earthly origin. As Konstantin Korotkov's report surfaced online, many conspiracy theorists alleged that the government is intentionally covering up the existence of aliens.