Hundreds of vehicles are stranded on the road as the Jammu-Srinagar National Highway remained closed for vehicular movement for the third successive day on Wednesday.
After clearing the debris authorities tried to remove the blockade but fresh landslides in the Ramban district created more troubles for the administration.
"Major slide at Rampari area of Banihal. National Highway is closed for traffic. Will take many hours to clear this stretch", Senior Superintendent of Police (SSP) Ramban and SSP Traffic National Highways Mohita Sharma tweeted.
The 270-kilometer-long highway, the only all-weather road linking Kashmir with the rest of the country, was blocked by mudslides and shooting stones between Chanderkote and Banihal in the district on Monday.
There was a major landslide on the highway at the Rampari area in Banihal tehsil Wednesday morning. Besides, another landslide took place in Wagon.
Men and machines have been deployed to clear the highway, officials said, adding that it will take several hours to clear the area.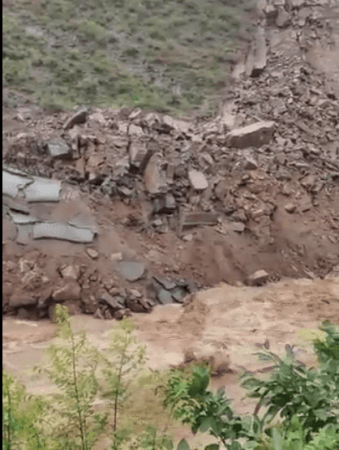 People asked not to travel on Jammu-Srinagar national highway
Traffic officials have issued an advisory asking people not to travel on the Jammu-Srinagar highway due to landslides at two places.
According to reports hundreds of vehicles are stranded at different points on the highway. Keeping in view the blockade of the highway, authorities are not allowing further movement of commercial vehicles from the Nagrota check post on the highway in Jammu.
Some trucks and other commercial vehicles which passed through the Dhar Road have been stopped at Udhampur.
The Mughal road, which connects the Shopian district of Kashmir with the Poonch district of Jammu, was also blocked for traffic due to heavy snowfall.
Several inter-district roads are closed due to heavy snowfall in the mountainous districts of the Jammu region.
Related
Bharat Jodo Yatra skips landslide-prone stretch between Ramban and Banihal, to resume on Friday [details]
J&K Govt orders magisterial probe into
Avalanche warning issued for 10 districts of Jammu and Kashmir amid heavy snowfall [details]