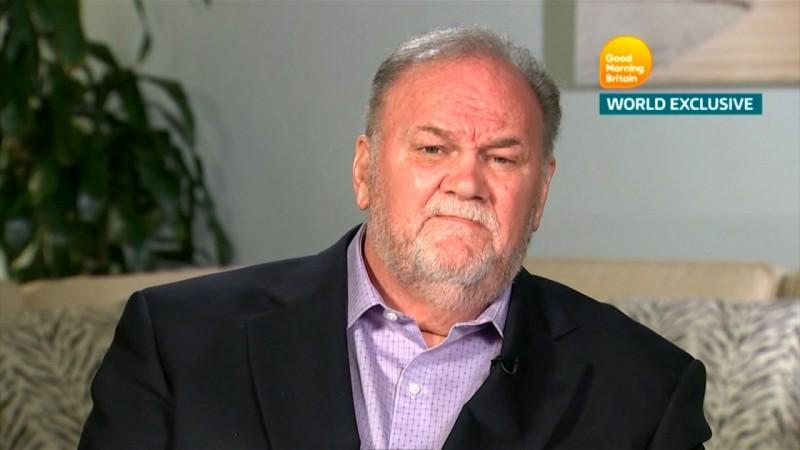 Meghan Markle's father Thomas is in apparent distress. Thomas is said to be unhappy following his growing distance with Meghan and Prince Harry. He hasn't met his daughter and son-in-law since their royal wedding in May.
According to Mirror UK, the Duchess of Sussex's ailing dad believes he may never see her again. Thomas Sr, who turns 74 next week, fears he may not have long to live following his cardiac arrest and heart surgery.
The former lighting director has requested Meghan and Prince Harry to meet him at the earliest. The trouble began after his bombshell interview with the British media followed by criticism against Queen for agreeing to meet Trump.
Markle Sr's lengthy interview with the British media took a political turn when he decided to reveal about his conversation with Prince Harry on phone. He said that Prince Harry was willing to experiment with Berxit and give Donald Trump a chance.
The British monarch, which is often considered to be apolitical, usually stays away from public expression of their views and opinions. However, Thomas revelation has truly brought a chaos in the royal palace. He also added that the Duke and Duchess of Sussex are planning to have children soon.
Days later, Meghan's father triggered another controversy with yet another shocking interview. He blasted Queen Elizabeth for agreeing to meet US President Donald Trump despite oppositions. Well, that was not the first or second time Markle is creating trouble for his daughter. Earlier, days before the royal wedding, he was accused of pulling a staged paparazzi pictures scandal in Mexico.
Now, it looks like Markle Sr has realised his mistakes and is trying to make a patch-up.