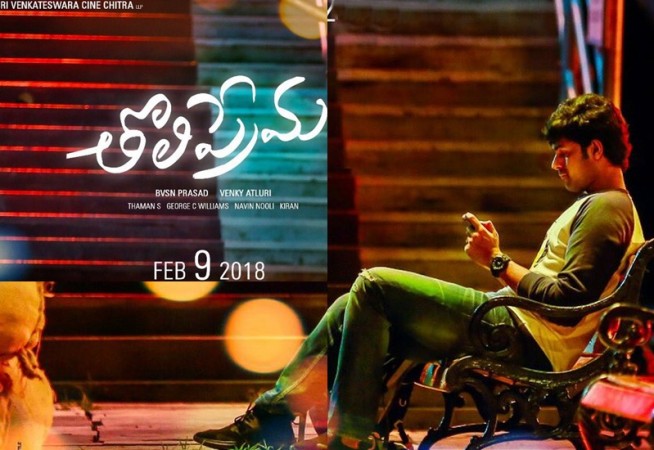 Tholi Prema has made a decent collection at the worldwide box office in the opening three days and became the second highest opening grosser over the weekend for Varun Tej, beating records of his films earlier Loafer and Mister.
With every movie, Varun Tej, is creating a firm foothold in Tollywood, and is getting better at his art with every movie. His last film Fidaa became one of the Tollywood's blockbusters in 2017, which helped him to get a great audience for his latest release Tholi Prema.
Before its release, Tholi Prema, got enough attention and hype thanks to the promotional activities and the promos.
However, on the release day, the movie clashed with two biggies, Sai Dharam Tej's Inttelligent and Mohan Babu's Gayatri keeping the audience and the critics on tenterhooks about the movie's performance on the BO.
Tholi Prema opened to good response and collected Rs 9.60 crore gross at the box office on the first day. The movie went on to become the biggest opener for Varun Tej, beating the record of his last outing Fidaa, which minted Rs 8.90 crore gross at the global box office on its opening day.
Despite getting mixed reviews, the Varun Tej and Raashi Khanna starrer managed to remain strong at the ticket counters on Saturday and Sunday. Tholi Prema has collected Rs 17.30 crore gross at the worldwide box office in the first weekend. In three days, the movie has earned Rs 9.20 crore for its distributors.
Tholi Prema has shattered the record of Varun Tej's Mister, which raked Rs 10.25 crore gross at the worldwide box office in its opening. The movie has gone on to smash the opening week record of Loafer (Rs 16.15 crore gross) but failed to beat the record of Fidaa, which minted Rs 25.60 crore gross in its first weekend.
Tholi Prema has earned Rs 23 crore from its global theatrical rights and it has recovered 40 percent of the investments. The current trends show that the movie may become profitable venture for the distributors outside the Telugu states, but it is likely to incur losses to Andhra Pradesh and Telangana.
Here are the details of the theatrical rights and area-wise earnings of Tholi Prema. These are estimated numbers, which may not match with actual figures. All the numbers are in Rs and crore.
| | | | |
| --- | --- | --- | --- |
| Rights | Rights | Earnings | Recovery (%) |
| Nizam | 6.00 | 2.30 | 38.33 |
| Ceded | 3.00 | 0.75 | 25.00 |
| Vizag | 2.50 | 0.86 | 34.40 |
| G East | 1.60 | 0.48 | 30.00 |
| G West | 1.40 | 0.44 | 31.42 |
| Krishna | 1.60 | 0.53 | 33.12 |
| Guntur | 2.00 | 0.62 | 31.00 |
| Nellore | 0.90 | 0.22 | 24.44 |
| AP/T Total | 19.00 | 6.20 | 32.63 |
| Karnataka | 0.80 | 0.60 | 74.99 |
| Rest of India | 0.20 | 0.10 | 50.00 |
| Overseas | 3.00 | 2.40 | 80.00 |
| Global Total | 23.00 | 9.20 | 40.00 |