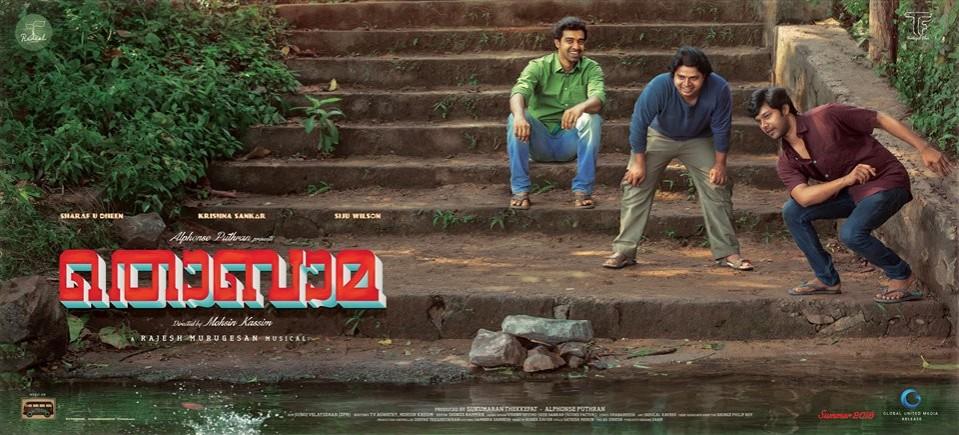 Alphonse Puthren has turned producer with the latest flick Thobama. Krishna Kumar, who played the role named Koya, a friend of Nivin Pauly in Premam, is starring in the flick along with Sharaf U Dheen and Siju Wilson. Punya Elizabeth will be seen as the female lead.
The film is directed by Mohsin Kassim, who has penned the story, screenplay, and dialogues in association with TV Aswathy. Rajesh Murugesan, who composed soulful songs in Premam, has scored the music. Sunoj Velayudhan has handled the cinematography, while Shinos Rahman has edited the flick.
Hype
Billed as the reunion of the Premam gang, the movie has drawn the viewers' attention with its audio. The trip song, which was revealed recently, has indicated that it is a youth-centric film and has a new-age story.
Thobama Movie Story:
The movie tells the story of 3 friends from different backgrounds. Thommi (Sharaf U Deen), Balu (Shiju Wilson) and Mammu (Krishna Shankar) want to make big money at any cost and decides to join hands with lottery mafia. In a bid to change their fortunes, they land in trouble and to an extent where they their friendship is on the verge of breaking up. What follows next is the interesting part of the story.
Audience Response:
Will the movie live up to the audience's expectations? Can Thobama recreate the Premam magic? Find it in the audience's words below:
Priyanka: Although I don't understand much of Malayalam, I went to first day first show of #Thobama just becoz it is directed by #AlphonsePuthren
Our Koya (Krishna in real) looks different from the role what he did in Premam....totally enjoyed