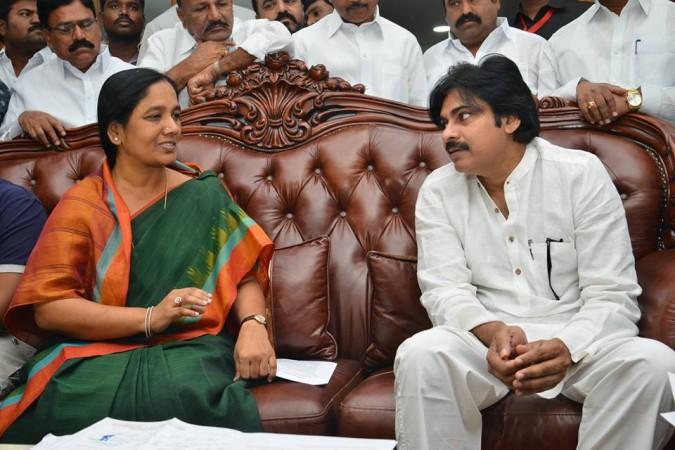 Jana Sena Party chief Pawan Kalyan paid a surprise visit to the residence of TDP minister Paritala Sunitha on Sunday morning. The meeting has been creating a lot of buzz on the social media.
Power star Pawan Kalyan, who is juggling between politics and filmy activities, has planned to foray into full-time politics in the 2019 election. After the release of Agnaathavaasi, the actor has set out for 'Chalo re Chal' tour which is being organised in a phased manner in Telangana and Andhra Pradesh.
Pawan Kalyan was in Anantapur as part of his 'Chalo re Chal' yatra, when he visited met Paritala Ravindra's wife Sunitha. Ravi's son Paritala Sriram received the actor with a lot of warmth. The power star had his breakfast at her house and was served Rayalaseema Traditional Cuisine, Raagi Mudda and Palli Chutney. He reportedly had an hour-long meeting with Sunitha.
Later, Pawan Kalyan spoke to the media and said that he enquired about the problems that the people of the Rayalaseema region are facing and also discussed the irrigation projects.
"There are aspirations among the people and we need to reach out to them, and understand and assess the situation. I came here to talk and get information about the ground reality of the situation at hand," the News Minute quoted Pawan Kalyan as saying.
Back in 1999, it was rumoured that late Paritala Ravi had an argument with megastar Chiranjeevi over a land dispute and forcefully tonsured his brother Pawan Kalyan's head. But the power star had refuted the rumours, saying that he had never met Ravi in his life and it was some TDP leaders' propaganda.
Talking to media, Paritala Sunitha slammed the reports about her husband Ravi tonsuring Pawan Kalyan's head. "He (Ravi) is not a fool to get the head of a popular actor tonsured. What Pawan said is right. There is no truth whatsoever in the reports that my husband got his head tonsured," the News Minute quoted the TDP leader as saying.