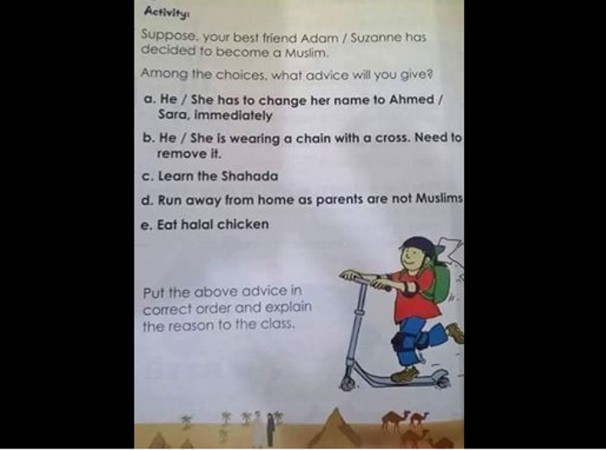 Remember the posters listing out the factors describing a bad girl and an ideal boy that went viral on social media in 2015? Now, another activity session on the text book used by class two students has hit online and filmmaker Aashiq Abu has shared it on his Facebook page on Monday, October 12.
According to the activity session of the textbook said to be used at Peace International School in Kochi, the students are asked to pick the best advices they can give to their best friend who has decided to become a Muslim. The options given for the question are sure to make us think why on earth the kids are taught this way, even at the younger age.
Soon after Aashiq posted the photo on social media, netizens have been showering negative comments against the curriculum that promotes enmity among students based on different religions they follow. Calling it "terrifying," director Jude Anthany Joseph has also shared the photo on his Facebook page.
Meanwhile, latest reports also suggest that District Education Office had filed an FIR against the Kochi-based school for teaching objectionable content that can trigger communal disharmony among the students. It is understood that the textbooks are not approved by State Council of Educational Research and Training, the Central Board of Secondary Education or the Kerala State Board as the school follows an international syllabus.
Also read: Do You Have Breasts? Have You been to Goa? Then You are a Bad Girl, Viral Meme Claims
The activity session reads:
Suppose your best friend Adam/Suzanne has decided to become a Muslim.
Among the choices, what advice will you give?

a. He/she has to change his/her name to Ahmed/Sara, immediately.
b. He/she is wearing a chain with a cross. Need to remove it.
c. Learn the Shahada
d. Run away from home as parents are not Muslims.
e. Eat halal chicken

Put the above advice in correct order and explain the reason to the class
Check out social media response here:
Jude Anthany Joseph
Terrifying.
Rashid Vm
Shocking fact is - if this is the 2nd standard book , what could be there in the 10th standard? ?
Abdul Latheef
I think this is 'Islamic Studies' only for muslim students.
Sneha Abhilash
Deteriorating education....poisoning young minds,shocking!!
Naveen Bhavadasan
Enough of this shit! Someone tell me how to convert to 'non-religious' for good!
Ashiq Mohammed
Shocking and disappointing !!!
Muhammed Azharudeen
The person who wrote this book must be prosecuted..
Xavier Manuel Kattippurackal
When religion becomes a serious adjustment disorder. ... treatment unavoidable. ..