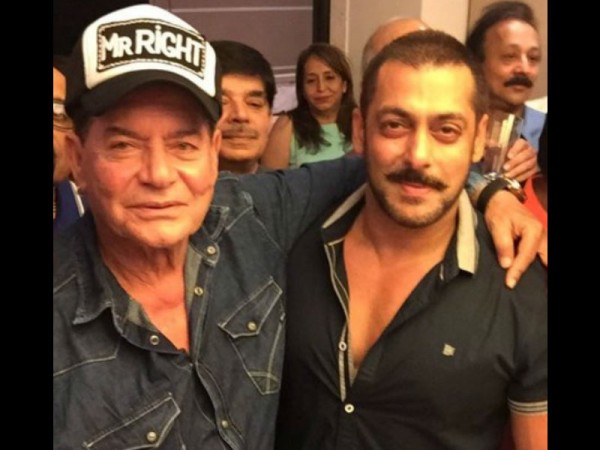 Bollywood superstar Salman Khan's father, scriptwriter Salim has come out with strong views on the controversies surrounding triple talaq and Karan Johar's Ae Dil Hai Mushkil (ADHM), which is set to be released on October 28.
The central government wants to bring a Uniform Civil Code to replace the personal laws that govern issues of marriage and divorce among religious communities. Its move has sparked a debate in the media and on social networking sites. Salim Khan took to his Twitter handle on October 17 and said that triple talaq in one sitting is against the principles of Quran.
In a series of tweets, Salim Khan said: "Triple Taalaaq arbitrarily in one sitting is against the Quranic principle. UCC is facing resistance from some clerics and might have been misunderstood by some muslims but, it does not interfere with Islam at all. 33 % muslims live as minorities in countries where there is no personal or islamic law. Yet they live in peace. The larger Q is Are muslims following islam at all? If you cant lead them dont mislead them. [SIC]"
He also made his opinion public about the impact Bollywood is reeling under after ties between India and Pakistan worsened in the wake of the Uri attack, which killed 19 Indian soldiers in Jammu and Kashmir. The growing tensions between the two countries led to a demand for a ban on the release of Ae Dil Hai Mushkil since it features Pakistani actor Fawad Khan. Celebrities in the Hindi film industry have been divided over the issue.
The scriptwriter once again took to his Twitter handle on Tuesday to share his views on the cracks over the subject in Bollywood. In a series of tweets, Salim Khan denied that discrimination exists in the film industry based on language, religion, caste and creed.
He wrote: "Film industry divided ?? No way Film industry is THE one place where there is no place for discrimination on the basis of Language religion caste & creed. What works is talent & capability. This is true from the time of Dada Saheb Phalke till date. It is true that there are some amongst us who have aligned themselves to political parties for personal gain. And Yes we are a happy lot. If our films work we are happy and if a rivals film flops we are happy too. And we live happily ever after. THE END. [SIC]"