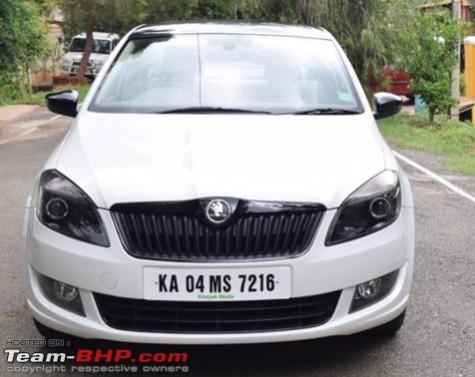 In a first of its kind case, a reputed vehicle dealer in Bengaluru is in the news for all the wrong reasons. A customer has accused the dealer of cheating him by selling a regular Skoda Rapid as the Black Edition of the model. Suhas Manjunath from the city has now approached the consumer court against Vinayak Skoda dealership and the company Skoda alleging cheating and manipulation of product.
Suhas narrated his ordeal to TeamBHP and felt that other customers may have been cheated by the dealership in Bengaluru.
The turn of events
According to the bookings and other papers shared by Suhas, he had booked a Skoda Rapid Style Plus 1.6MPI in Candy White BP which was a Black Package limited edition through Vinayak Skoda and got it delivered. However, within few days after the delivery, the all-new Rapid Black Edition started showing some shortcomings beginning with its headlight, he told the website.
Suhas further states that he approached Uday Kumar, senior general manager of Vinayak Skoda, who directed him to visit Skoda service centre. Although Suhas did so, the service station could not identify the problem and requested him to give them 10 days to figure out the problem. After 10 days, when Suhas contacted the service centre to check on the progress, they informed that internal wiring and programming of ECU / BCM in his car were the same as that of a regular Skoda Rapid.
It must be noted that internal wiring and programming of the ECU / BCM for Black Package Skoda Rapid is different from the regular Rapid model. Suhas, grew suspicious and checked the details of the model on 'MySkoda' app. Much to his shock, he came to know that it was not the limited edition Skoda Rapid.
Suhas confronted the Senior General Manager and the owner of Vinayak Skoda reportedly admitted the foul play. The dealership did not have stock of Black Package Skoda Rapid and therefore decided to swap the parts from a different Skoda Rapid, which was manufactured as Black Package and put it in his car.
Will Skoda respond to the allegations? Only time will tell. In March this year, Skoda was again in the news when a customer from Ludhiana, Punjab decided to have his Octavia pulled by two donkeys after got tired of its daily breakdowns.
When we tried to contact the Vinayak Skoda dealership in Bengaluru to get their side of the story, the calls went unanswered. We will update this story as and when the dealership responds.