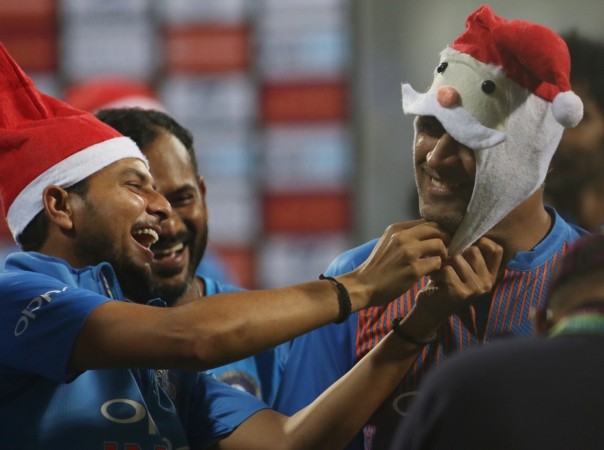 At Mumbai's Wankhede Stadium on Sunday night (December 24), MS Dhoni yet again proved whey he is one of the most loved cricketers in India.
It was celebration time for India as they defeated Sri Lanka by five wickets to complete a 3-0 whitewash in the Twenty20 International series. After wrapping up the game in the last over, the players gathered to unveil a new look, for Christmas.
All players and the support staff wore Santa Claus caps and posed for photographs. Some of the players even took selfies, with opening batsman KL Rahul leading the way on the ground.
But as the festive mood was set in at the iconic ground, Dhoni stood out. The wicketkeeper-batsman wore a different Santa cap from his team-mates. He was in a jovial mood after finishing the contest with a boundary.
It was at this very ground that Dhoni hit that famous six to seal the World Cup 2011 for India. And when he walked out to bat on Sunday, there were chants of "Dhoni, Dhoni" from the crowd.
The fans at the ground and on the social media loved Dhoni's new look. The most interesting part of Team India's celebrations was when youngster Kuldeep Yadav played around with Dhoni's Santa cap.
The 36-year-old Dhoni allowed Kuldeep to have some fun. Kuldeep, 23, kept pulling the Santa cap worn by Dhoni. The former skipper was seen smiling and this won millions of hearts on social networking platforms.
Dhoni was praised for making sure the youngsters in the team are not overawed by seniors, which was the case in the early 1990s, as mentioned recently by Sanjay Manjrekar in his book "Imperfect".
While Dhoni will have a break from cricket, the Indian Test team travels to South Africa this week. First Test starts in Cape Town on January 5, 2018. Dhoni will go to the "Rainbow Nation" later for six ODIs and three T20Is.
Here are some of the reactions from Dhoni fans