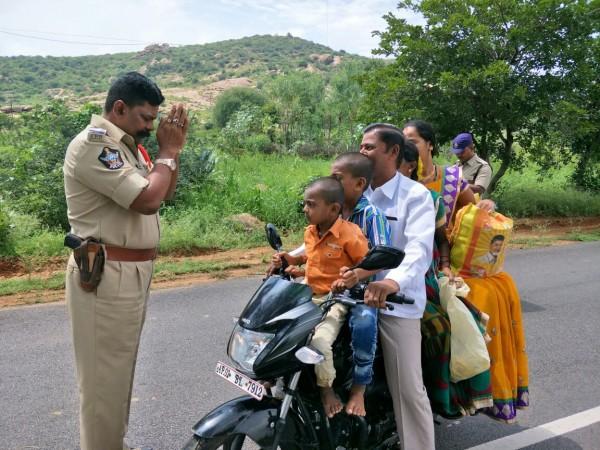 A few days after the photo of a Hyderabad City police officer holding a smiling baby went viral on social media, an interesting image of another cop has surfaced online.
In the latest image, an Andhra Pradesh policeman is seen standing with folded hands in front of a family that had violated traffic rules.
A man named Hanumantharayudu was spotted riding a motorcycle with his two sons sitting on the vehicle's fuel tank and his wife and another woman riding pillion. None of them had helmets!
The incident took place in Anantapur district of AP the other day, hardly two hours after circle inspector B Shubh Kumar of Madakasira town came out of an awareness programme on road safety which was attended by the offender. The police officer, visibly frustrated after witnessing the sheer disregard of traffic rules and safety norms, could do nothing else but fold his hands to express his helplessness.
"As the two kids were sitting on the fuel tank, he had little room to manoeuvre because their legs were stuck to the handlebar. Accidents happen like that only. When I confronted him, he just smiled back at me and murmured something [sic]," Shubh Kumar told Indian Express.
Being a remote area, the cops have been conducting awareness programmes on the importance of wearing helmets and following all other traffic rules. As part of the campaign, they also played video interviews of people who had lost their beloveds in road accidents.
"But some people just don't care. It is frustrating sometimes," the officer said.
The photo has been going viral on social media. "This is probably the ultimate journey of the family! This can be the police officer's last tributes the family! Can this journey be enjoyable! Follow Traffic rules [translated from Kannada]," reads the tweet on the Twitter page of Bangalore North ACP. .
Here's the viral photo of AP police officer:
ಇದು ಪ್ರಾಯಶಃ ಕುಟುಂಬದ ಅಂತಿಮ ಪಯಣ ಇರಬಹುದೇ!
ಕುಟುಂಬದವರೆಲ್ಲರಿಗೆ ಪೊಲೀಸ್ ಅಧಿಕಾರಿಯ ಅಂತಿಮ ನಮನವಾಗಬಹುದೇ!
ಈ ಪಯಣ ಸುಖಕರವಾಗಿರಲು ಸಾಧ್ಯವೇ!
ಸಂಚಾರ ನಿಯಮ ಪಾಲಿಸಿರಿ pic.twitter.com/6478sLwXrZ

— ACP TRAFFIC NORTH (@Acpnorthtrdvn) October 10, 2017
A cute image shared by journalist Dennis Marcus Mathew of Telangana Today had also gone viral recently in which a police officer was seen holding four-month-old Faizan Khan, who was rescued from his kidnappers in Nampally.
After his mother Humera Begum lodged a complaint, the police officers tracked down the kid using the CCTV footages in less than 15 hours. The police have also arrested two people in connection with the kidnap case.